'The Complete Guide to Option Pricing Formulas' by
This is another great book on options pricing and pricing formulas. This is especially good for a little advanced option traders who want to know more about the fancy stuff and some math behind options. The book is over 500 pages and includes a CD with some spreadsheets and other useful data.
*Description: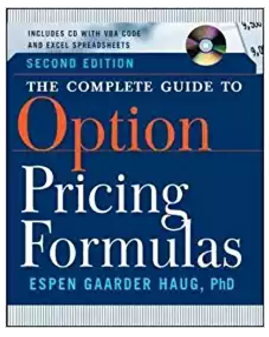 'Long-established as a definitive resource by Wall Street professionals, The Complete Guide to Option Pricing Formulas has been revised and updated to reflect the realities of today's options markets. The Second Edition contains a complete listing of virtually every pricing formula_ all presented in an easy-to-use dictionary format, with expert author commentary and ready-to-use programming code.
The Second Edition of this classic guide now includes more than 60 new option models and formulas…extensive tables providing an overview of all formulas…new examples and applications…and an updated CD containing all pricing formulas, with VBA code and ready-to-use Excel spreadsheets.
The volume also features several new chapters covering such things as: option sensitivities, discrete dividend, commodity options, and two chapters on numerical methods covering trees, finite difference and Monte Carlo Simulation.
The new edition of The Complete Guide to Option Pricing Formulas offers quick access to:
Options Pricing Overview
Black-Scholes-Merton
Black-Scholes-Merton Greeks
Analytical Formulas for American Options
Exotic Options Single Asset
Exotic Options on Two Assets
Black-Scholes-Merton Adjustments and Alternatives
Trees and Finite Difference Methods
Monte Carlo Simulation
Options on Stocks that Pay Discrete Dividends
Commodity and Energy Options
Interest Rate Derivatives
Volatility and Correlation
Distributions
Some Useful Formulas: Interpolation, Interest Rates, and Risk-Reward Measures
This all-in-one options pricing guide contains a numerical example or a table with values for each option pricing formula. The book also includes a helpful glossary of notations, as well as an extensive bibliography of related books and articles.'
Buy 'The Complete Guide to Option Pricing Formulas' here
---
'Option Volatility And Pricing' by Sheldon Natenberg
As you hopefully know by now, options pricing plays a huge role in options trading. Volatility is one of the most important and complex parts defining an options price. A good understanding of these topics is crucial for making money with options. This book is almost 600 pages long.
*Description:
'WHAT EVERY OPTION TRADER NEEDS TO KNOW. THE ONE BOOK EVERY TRADER SHOULD OWN.
The bestselling Option Volatility & Pricing has made Sheldon Natenberg a widely recognized authority in the option industry. At firms around the world, the text is often the first book that new professional traders are given to learn the trading strategies and risk management techniques required for success in option markets.
Now, in this revised, updated, and expanded second edition, this thirty-year trading professional presents the most comprehensive guide to advanced trading strategies and techniques now in print. Covering a wide range of topics as diverse and exciting as the market itself, this text enables both new and experienced traders to delve in detail into the many aspects of option markets, including:
The foundations of option theory
Dynamic hedging
Volatility and directional trading strategies
Risk analysis
Position management
Stock index futures and options
Volatility contracts
Clear, concise, and comprehensive, the second edition of Option Volatility & Pricing is sure to be an important addition to every option trader's library–as invaluable as Natenberg's acclaimed seminars at the world's largest derivatives exchanges and trading firms.
You'll learn how professional option traders approach the market, including the trading strategies and risk management techniques necessary for success. You'll gain a fuller understanding of how theoretical pricing models work. And, best of all, you'll learn how to apply the principles of option evaluation to create strategies that, given a trader's assessment of market conditions and trends, have the greatest chance of success.
Option trading is both a science and an art. This book shows how to apply both to maximum effect.'
Buy 'Option Volatility And Pricing' here
---
'Trading Options Greeks: How Time, Volatility, and Other Pricing Factors Drive Profits' 

by Dan Passarelli

A good understanding of option Greeks and pricing is important to success. After reading this book you will have a complete understanding of these topics. With the new knowledge you acquired you should be able to improve your trading drastically.

*Description: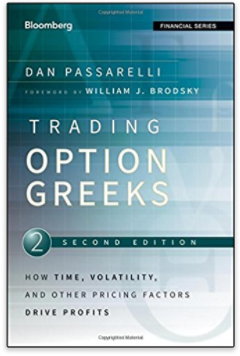 'A top options trader details a practical approach for pricing and trading options in any market condition
The options market is always changing, and in order to keep up with it you need the greeks—delta, gamma, theta, vega, and rho—which are the best techniques for valuing options and executing trades regardless of market conditions. In the Second Edition of Trading Options Greeks, veteran options trader Dan Pasarelli puts these tools in perspective by offering fresh insights on option trading and valuation.
An essential guide for both professional and aspiring traders, this book explains the greeks in a straightforward and accessible style. It skillfully shows how they can be used to facilitate trading strategies that seek to profit from volatility, time decay, or changes in interest rates. Along the way, it makes use of new charts and examples, and discusses how the proper application of the greeks can lead to more accurate pricing and trading as well as alert you to a range of other opportunities.
Completely updated with new material
Information on spreads, put-call parity and synthetic options, trading volatility, and advanced option trading is also included
Explores how to exploit the dynamics of option pricing to improve your trading
Having a comprehensive understanding of the greeks is essential to long-term options trading success. Trading Options Greeks, Second Edition shows you how to use the greeks to find better trades, effectively manage them, and ultimately, become more profitable.'
Buy 'Trading Options Greeks: How Time, Volatility, and Other Pricing Factors Drive Profits' here
---
'Option As A Strategic Investment' by Lawrence McMillan
This is one of the most in depth, informative and best books about options trading. Almost everything you should know about options is written down in this book. It is over 1000 pages long and covers a broad range of different topics.
*Description: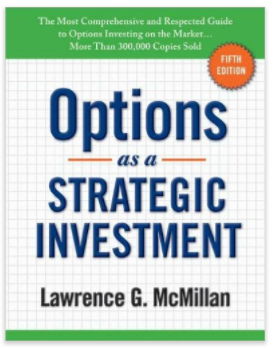 'The market in listed options and non-equity option products provides investors and traders with a wealth of new, strategic opportunities for managing their investments. This updated and revised Fifth Edition of the bestselling Options as a Strategic Investment gives you the latest market-tested tools for improving the earnings potential of your portfolio while reducing downside risk—no matter how the market is performing.
Inside this revised edition are scores of proven techniques and business-tested tactics for investing in many of the innovative new options products available. You will find:
•Buy and sell strategies for Long Term Equity Anticipation Securities (LEAPS)
•A thorough analysis of neutral trading, how it works, and various ways it can improve readers' overall profit picture
•Detailed guidance for investing in Preferred Equity Redemption Cumulative Stocks (PERCS) and how to hedge them with common and regular options
•An extensive overview of futures and futures options
Written especially for investors who have some familiarity with the option market, this comprehensive reference also shows you the concepts and applications of various option strategies — how they work, in which situations, and why; techniques for using index options and futures to protect one's portfolio and improve one's return; and the implications of the tax laws for option writers, including allowable long-term gains and losses. Detailed examples, exhibits, and checklists show you the power of each strategy under carefully described market conditions.'
Buy  'Option As A Strategic Investment' here
---
(These books are in no specific order)
*Books description from Amazon.com