Sorry, but this review is either outdated or of poor quality. I am working on fixing the problems. If you want to check out some other (better) recommendations, check out my trading resource page!!!
---
OptionsHouse is an options broker, founded in 2005, which recently got acquired by the stock brokerage E-Trade. They offer an advanced trading platform with many different features. I have used their platform for quite a while. I hope you will enjoy the following OptionsHouse brokerage review and if you have any questions left afterwards, feel free to ask in the comment section below.
Features
First of all I have to say that OptionsHouse has a lot of great tools and trading features for option traders. They really let you analyze your existing or upcoming positions very good. They offer a strategy builder, which is especially good for newer users who may have trouble setting up spreads themselves. They have a tradeLAB which easily lets you get to know the probabilities of losing/winning, the max loss/profit, break-even points and much more. Not only does OptionsHouse offer these analyze features but they also made them easy to use, navigate and understand. I often have the problem with other brokers that they do offer these features but I just can't find them or find it rather complicated to understand the readings in their platforms. OptionsHouse is generally great for options traders. They offer great features, but also good customisable  option chains and interface.
Apart from that, OptionsHouse also has extremely competitive options trading commissions. On the right you can see the commission prices for 10 option contracts in different brokers. As you can see in that option trading commissions comparison OptionsHouse really does offer quite low commissions. They are one of the most competitive brokers when it comes to option trading commissions.
In addition to the low commissions, they also offer 60 days of OptionsHouse free trades with no commissions at all. But there are some contingencies to this. These being that you have open up an Individual, Joint or IRA OptionsHouse account and fund it by 6/30/2017 with $5,000 or more to get the 60 days of commission free trades. This is actually quite a big offer. In 60 days of commission free trades you can save up to 1000$ if you trade extremely regularly. After these 60 days it's $4.95 flat-rate for stocks and only $0.50 per contract + $4.95 base for options.
Furthermore, OptionsHouse has an innovative mobile app, which allows you to trade from your mobile device. It is available for both Android and IOS. I'm not gonna lie I never really used the app, but from what I have heard it seems to be pretty good.
OptionsHouse does also offer virtual trading. It's called paperTRADE and is automatically given acces to after you open an account. I always do appreciate a good paper trading software. It is a great place to practice trading and test some new strategies. But especially for beginners paper trading can be extremely useful. It is the best way to learn trading and a broker platform without risking anything. Not like on other platforms the paperTRADE feature does not have limited features, but it gives acces to all the features you would find in a real OptionsHouse account.
Otherwise, OptionsHouse has more than enough liquid assets to trade options on. I never didn't find any asset I wanted to analyze or trade and as long as you aren't planning on trading any exotic penny stocks or so you shouldn't have any problems with the asset selection.
But one thing that isn't that great on Optionshouse's platform are their charts and their technical indicators. I find that the charts offered on their platform aren't as smooth as some of the charts offered on other broker platforms. In general, I think that they could improve their charting features. They do offer over 40 technical studies, but they just don't feel great to use in my opinion.
How to place and setup an Order inside of the OptionsHouse Trading Platform – Insight to the Platform
Here I want to walk you through a trade setup and order inside of the OptionsHouse trading platform:
The first thing you'll probably want to do is find an instrument to do a trade on and its chart. For this example I just chose SPY. To search for another instrument inside of the platform you just have to enter the ticker symbol in the top left corner under Trading. To go to the option chain you'll have to select the options tab next to the Chart tab in the menu bar.
This is an example of an option chain inside of OptionsHouse's platform. In the top you will be able to select a desired expiration date. Otherwise, the option chain is customisable, so you can add or take away greeks, volume, implied volatility and much more.
I now selected a strike price and option type (244 Call). To do this you just have to click the strike you want and then this window will appear. From here on you can either order directly if you don't want to create a spread, analyze this strike or create a spread with it.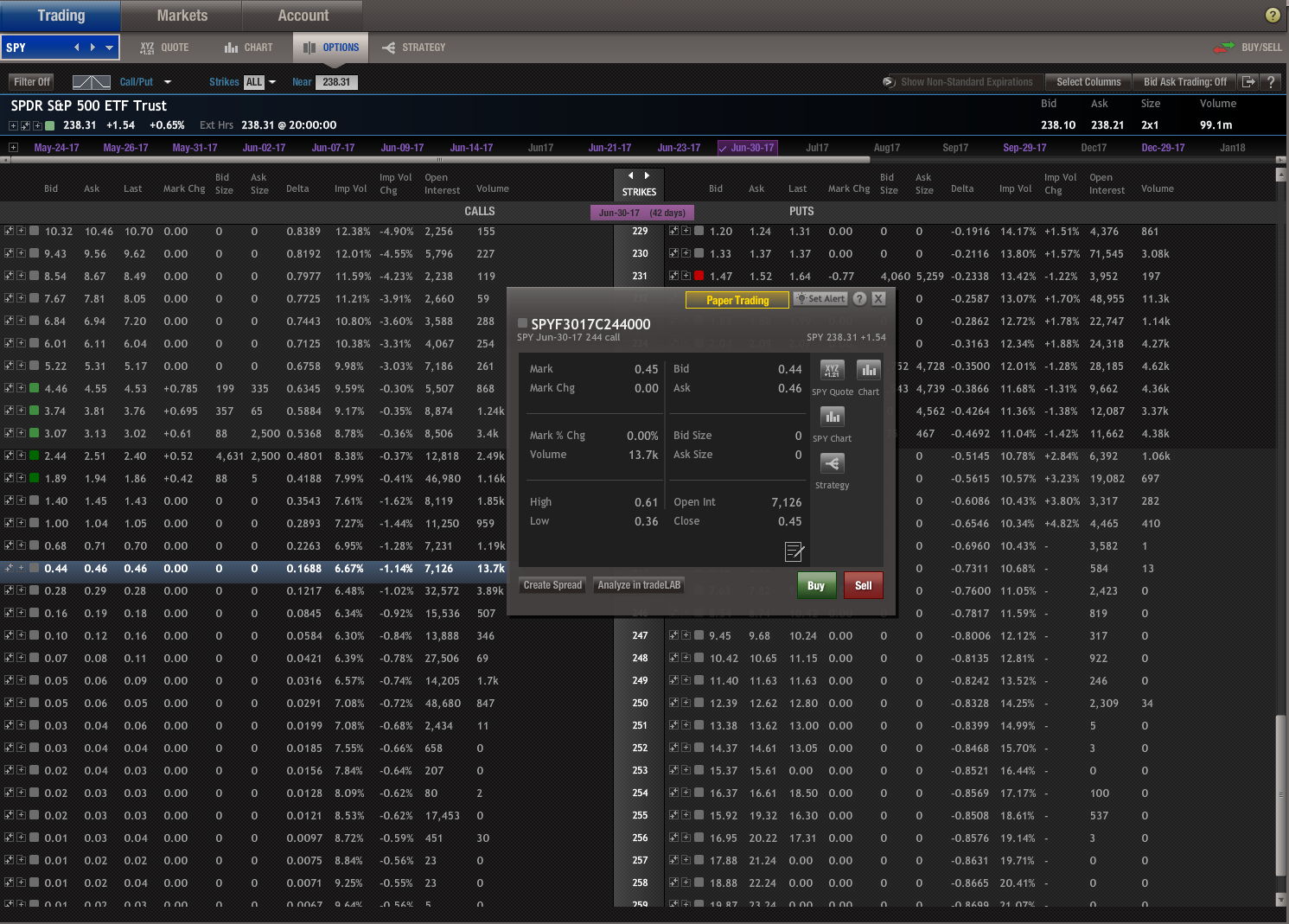 This window will be created if you choose to create a spread. Here you will be able to select one of the strategies seen below or create a custom spread. If you select one of the preset strategies, you still will be able to customize it afterwards.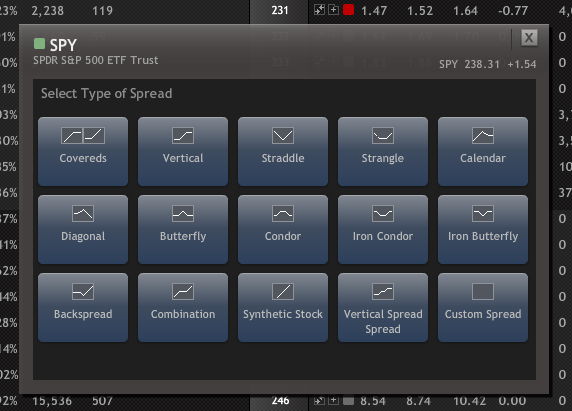 Here I selected the Vertical Spread from the spread selection window. Here is where you can customize your spread, go on to ordering, analyze the spread or add/edit additional legs to the spread.
In the picture below I chose to add/edit additional legs. I feel like this gives me some more freedom in creating a more custom spread. I created an OTM credit spread, which you can see in the payoff diagram on the right side. From here on I again can go directly to the order menu or analyze this spread.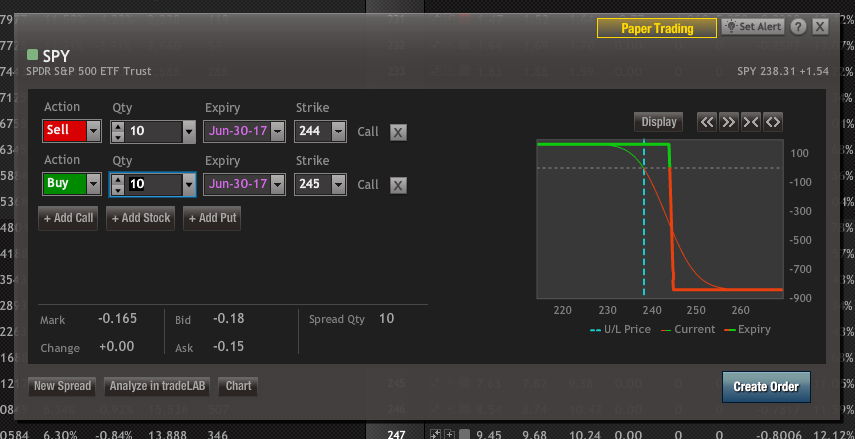 If you choose to analyze the spread, the following window will appear. Here you can see all the probabilities, the max loss/profit, risk/reward and more. I especially like the neat feature that displays upcoming events like earnings and dividends in the bottom left corner. This saves you time, because you won't have to check this somewhere else anymore. From here on you can go back to edit your strategy, further analyze the spread under the spectral analysis tab or create an order.
When you create an order, you can still adjust position size, use a calculator, select your order type and of course the price. Furthermore, you can set up alerts at certain prices or save this trade if you want to do it later or more than once. The bid and ask prices also are displayed. Before you finally can send out the order there will be one last preview of it.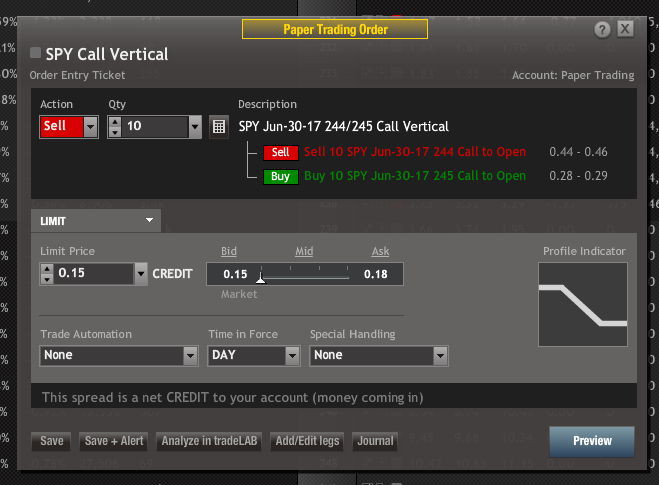 This is how the order preview looks like. Here you can and should check one last time if everything is correct. Moreover, you can see the final price and the positions impact on your overall portfolios cash and buying power. If you change your mind at this point, you either discard the order or go back to edit it. Otherwise, you can send it and hope to get filled fast.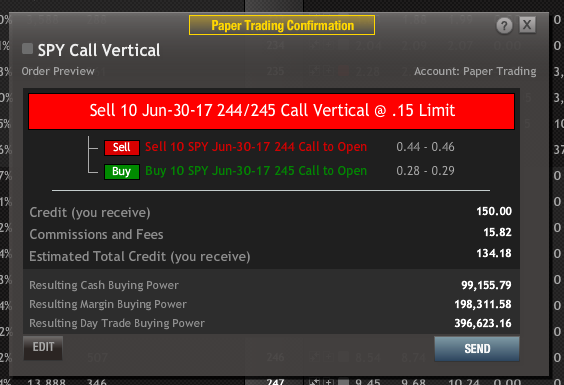 Conclusion – Is OptionsHouse for you
I seriously think that OptionsHouse is the best broker for options traders or at least one of the best options brokers for high probability option sellers. But that's really it. If you are not mainly an options trader, OptionsHouse is probably not for you. Honestly they really don't have too many features and deal breakers for stock traders. But on the other hand they have all the great features an options trader would want to use and these features are easy to use on their platform. It is extremely easy to set up rather complex spreads, analyze these and create orders. Another thing which would make OptionsHouse not so good for stock trader is their somewhat poor charting features. They are good enough for some analysis, but I wouldn't want to spend hours analyzing charts with OptionsHouse's charts and charting features. Compared to other ones like the charts offered on Tradingview, OptionsHouse just doesn't stand a chance. But most options traders don't necessarily need al these fancy charts. So if you don't plan on trading mainly options or use a lot of technical analysis in your trading, I wouldn't suggest opening an OptionsHouse account. OptionsHouse only really shines when it comes to options trading. But here it really shines. Their commissions are seen almost nowhere else and they generally offer a good and beginner friendly platform. Especially the OptionsHouse free trades in the first 60 days are quite good for beginners. This makes trades much more forgiving.
To find out even more, open an OptionsHouse account and get started just visit OptionsHouse here.