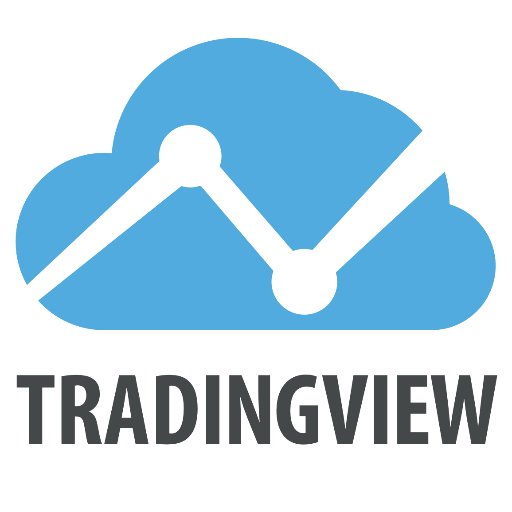 Tradingview is an advanced financial visualization platform which uses the simplicity of a modern website. Whether you are looking at basic price charts or plotting complex spread symbols with overlaid strategy backtesting, they have all the tools and data you need.
Tradingview is one of the most active social networks for traders and investors. You can talk to thousands of traders from all over the world, discuss trading ideas and place live orders. They offer all their features in a browser or as an app to download.
Features
The first and main feature of Tradingview is their amazing Charts. Navigating and analyzing charts in a broker platform often can be complicated and unpractical. Tradingview offers tons of charting features and offers extremely smooth and easy to navigate charts. Whether you want to analyze all the technicals of a given chart or just want to look up the current trading price, Tradingview makes it easy and fast. They offer over 50 drawing tools, many different chart types, numerous indicators, an easy to use chart comparing feature and much more.
Another very powerful feature of Tradingview is their Alerts. These can be set for every condition imaginable. You can set alerts on indicators, drawing tools, price levels or even on custom conditions. For each of these categories there are at least 10 different available conditions you can set to trigger the alert. You get notified through popups, audio signals, mail and messages to your mobile phone.
Furthermore, Tradingview offers an amazing Stock Screener. Apart from allowing you to search for every given instrument and it's chart, the stock screener allows you to add filters. These filters can help you a lot in finding the next stock for you to trade. Some available filters are: cheapest companies that make the most money, lowest P/E ratio, the biggest movers, most volatile, cheapest etc.
Additionally, they have something called the Pine script. This is a huge feature. Besides the 100+ already existing technical studies, the Pine script let's you create your own, or edit existing indicators. You can backtest your own strategies and eventually use some scripts for your real trading. If you don't want to create your own, there are countless community made scripts for you to use as well.
Probably the best feature on Tradingview must be that you actually can trade directly from their platform. One thing which I really dislike about other charting platforms, is that you can only use them for your analysis and then have to head to your broker to trade. Tradingview has a great solution for this problem. They allow you to connect your broker and let you place trades directly from their Tradingview. In addition, they also offer their own simulated trading to practice and test your analysis. This is a great way to try out new things or even just to get into trading without risking anything. Besides that they'll allow you to automate your trading. This is something great to do after you back tested your strategies.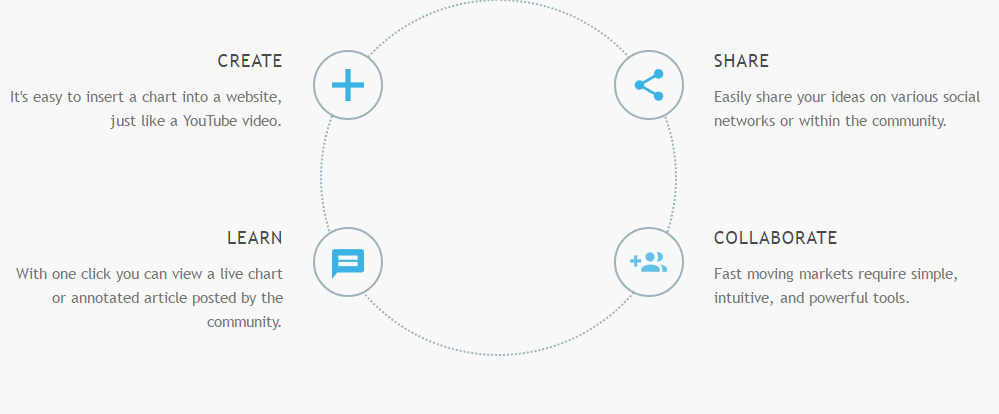 Tradingview is fed by a professional commercial data feed, with direct access to stocks, futures, all major indices, Forex, Bitcoin, and CFDs. You can get premium data on prices, volume and history streamed directly from the US and international exchanges. Moreover, they also have an economic/earnings calendar and much more.
Last but not least Tradingview has an amazing and very active community. This may not sound that great. But having a big and active community doesn't only keep you motivated and interested, because you have people to talk with, but it can also help a lot, because you can always ask questions, get recommendations and do much more. In general there is a lot of social engagement on Tradingview. Just to get an idea of the scale: Tradingview has almost 1 million investors, almost 1 million trade ideas published and almost 1 million custom charts were created on their platform.
Memberships and Pricing
There are four memberships at Tradingview. A free membership with limited features, Pro membership, Pro+ membership and a Premium membership with every imaginable feature available. As you can see below the Pro membership costs 14.95$ per month, 155.5$ per year or 239$ for two years. The Pro+ membership would cost you 29.95$ per month, 29.5$ per year or 479 for two years of access. The Premium membership either costs 59.95$ per month, 594$ per year or 959 for two years. But you can get a one-month free trial for all the paid memberships. (The free membership of course is free).
Is Tradingview for you – How to get started:
If you are a dedicated trader, who likes good charts and uses technical analysis for trading or just like to have some fellow traders I would definitely say that Tradingview is something for you. They offer some of the smoothest and easiest to use charts out there and all of this inside of a browser or mobile app. Even if you only are interested in a few features like their stock screener, I would recommend that you sign up. But which membership should you choose:
First of all I want to say that I really thing Tradingview is an amazing trading network/software and it can improve the trading of many people. Therefore, I don't care what kind of trader you are: I recommend everybody to at least try out a free trial or sign up for a free account. It is not like the free account has nothing to offer. It still offers all the basic features (like their stock screener, simulated trading…) and it allows you to use their amazing charts. But if you really want to step your trading up, I don't see any problem with one of the paid memberships. They all are great and in fact none of them really are too expensive for what they have to offer. A good deal of other software/networks with similar level of features cost a lot more than this one. I mean 10 or 20 bucks really aren't that much for something likes this.
My recommendations are:
If you are a beginner and are getting into trading and charting:
-Sign up for the free membership, get familiar with the platform and just try to learn more about charting by trying out things. You still will have access to simulated trading, which you should try out. As soon as you get a better understanding of things and begin to trade for real you could try to step things up with the next membership.
If you are an intermediate trader with some experience:
-Sign up for the Pro+ 30-day free trial. If you like what you see after one-month I would definitely consider signing up for it. The Pro+ membership isn't too expensive but offers all the essential features for a serious trader.
If you are an advanced/experienced trader:
-Sign up for the Premium 30-day free trial to check things out. If you like it consider signing up for it. This is the membership which gives you access to all available features. This is for the trader who wants to turn (or already has) his trading into a full time business. It has every feature, a full time professional trader could dream of.
For all the above suggestions I'd recommend signing up for a one-year membership if you like the 30-day free trial. This is because:
1. It's cheaper
2. It will keep you motivated. When you invest your hard-earned money, you will be much more likely to stick with things, because you have more on the line.
To Check Out Tradingview's Platform For FREE, Click HERE!