Hi there, I am Louis.
I have been interested in the (stock) market for the past few years. Similar to the way most people get interested in this topic, I also got intrigued by the idea of making easy money while sitting on a sofa anywhere in the world. The idea of turning (stock) market speculation into a full-time job just blew me away. So I started to do some research on the topic.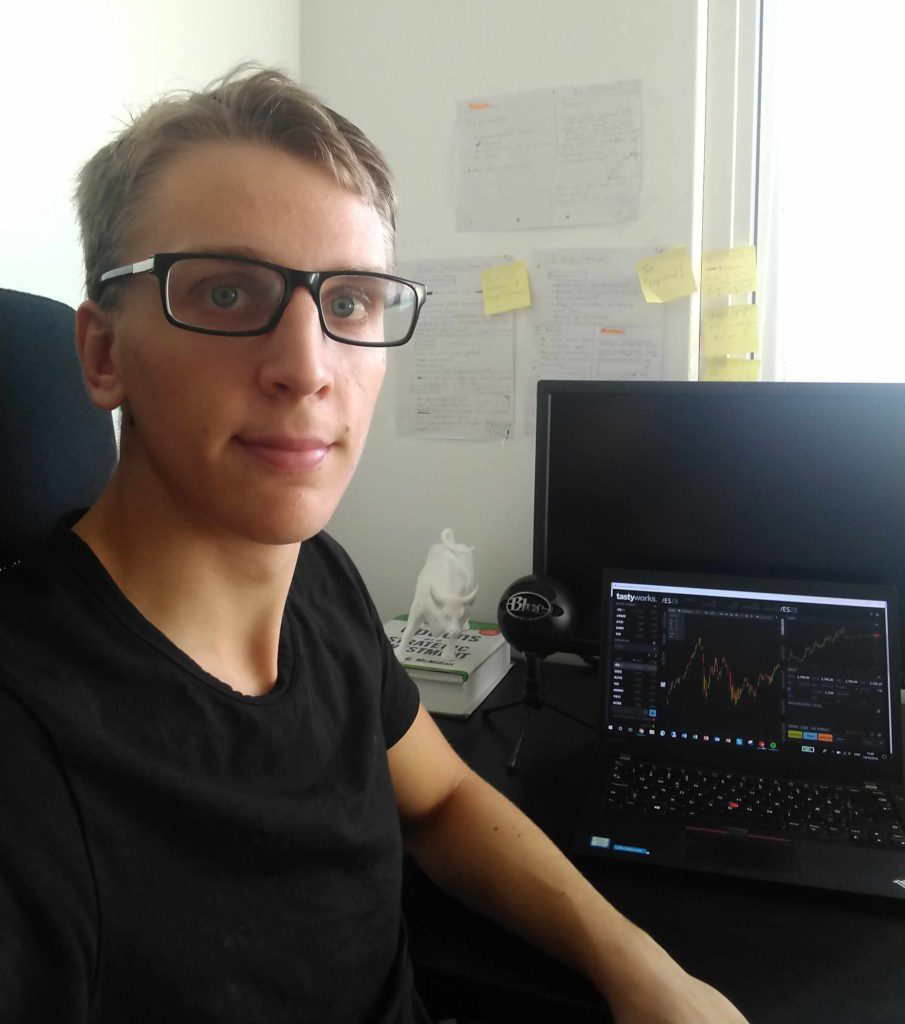 Quickly I learned that things weren't as easy as I thought. I realized that the idea of making fast and easy money in the (stock) market without any real experience was nothing more than a dream. Don't get me wrong! The (stock) market is a wonderful opportunity which easily can replace your job. But ONLY with the correct education and mentorship!
So I began to educate myself. But I soon found out that this was harder than I imagined. I really didn't have much money and didn't want to buy all these fancy expensive trading courses. Therefore, I didn't. I went the free education path. I found one site after the other where I consumed all the educational content available to gain as much knowledge as possible.
But if I didn't have a lot of money, how the heck could I afford to start trading?
Investing in stocks can be very capital intensive, especially when you want to trade the good and liquid ones. Thus, I needed an alternative and found out about options. I read somewhere: 'Options allow you to control big-name stocks without requiring huge amounts of capital.' But I had no idea of what options are and how they work. So I continued to educate myself on the topic. It took me around 2 years to understand options, find a consistent, not capital intensive and actually working strategy with options. Up until this point, I am still constantly revising and improving this strategy. From the experience gained until now, I'd say there is no perfect strategy! That is also the reason why I will keep on testing new things. I won't tell you that my strategy is the 'holy grail' of trading and that this is the only way of making money in the (stock) market. I won't say it because it simply isn't true. No matter what some 'trading educators' will try to sell you, there is and never will be something like a perfect, 'holy grail' like strategy in trading. There will always be many different ways of making and of losing money in the markets.
My goal with this site is to trim down the learning time of all these things tremendously for you. Therefore, I have provided this entire site full of articles, video classes and much more. In all of this content, I explain options, my trading strategy, other trading strategies, general market concepts and much more.
Luckily for you, all of this is 100% FREE! So take advantage of this, before I will change it. This is a once in a lifetime opportunity.
---
My Background:
I was born in the US (Chicago, Illinois). I grew up with German parents and therefore, my mother tongue is German.
Up to this point, I have lived in five different countries: USA (Chicago), England (London), Switzerland (Zurich), Denmark (Copenhagen) and I am currently residing in Germany.
My father has been a banker almost his entire life and worked in multiple banks. One of his jobs was Managing Director in a respected bank for several years. This is probably one of the reasons why I started to get interested in the financial markets. Nevertheless, I am taking a completely different approach to the financial industry than him as he never really was a retail trader.
Before I conclude this about me page, I just wanted to make clear that I am not claiming to be any kind of professional trader. I would describe myself as a still quite young, self-taught retail trader that is trying to inspire, mentor and educate like-minded people in trading. I will do this as good as I possibly can. But I want to make clear that I want to have some privacy as well. I have opened a new smaller broker account that I am relatively transparent with and showing you many example trades from. Furthermore, I am experimenting with a multitude of different strategies in this account. Currently, I am not willing to share all my trading activities in real time, as I am not giving any buy/sell signals on this site. TradeOptionsWithMe is purely an educational website to show you how the markets work and how you can make money with them. I would be grateful if you could respect that.
I hope you can find some valuable and good information on my site. If you ever have any questions, comments, feedback or anything else, feel free to leave comments at the bottom of every page or contact me personally here.
I wish you the best of luck on your journey and I really hope that I can help you.
Cheers,
Louis
Founder of TradeOptionsWithMe.com
CLICK HERE to get started!