Before I start with the review, I just want to leave a short note on the fast development and improvement of Tastyworks. I have to edit and update this review constantly because the Tastyworks team is constantly adding so many new great features. 2022 will be an amazing year at Tastyworks. I have seen their plans and upcoming features and all of them are very promising. So if a feature seems missing to you, chances are high that they will implement it later down the road.
Tastyworks is a regulated and very new broker from the same very experienced creators of the broker Thinkorswim. Tastyworks is not your average trading broker, it is a very special broker. This does not necessarily mean that it is the best choice for you. Tastyworks is also the broker that I currently use for my trading. I will present you the reasons why I like Tastyworks in the following Tastyworks brokerage review.
---
Tastyworks Video Review And Tutorial
If you prefer watching videos over reading articles, you could check out my video review of Tastyworks' platform. In it, I cover the same topics as I do in this written review.
Click HERE To Sign Up To Tastyworks!
---
Features
Let us begin with the standard features of brokers: the range of investment products. Tastyworks offers stocks, options, ETFs, futures and options on futures. Nothing special here. Tastyworks offers cash accounts, margin accounts, corporate accounts, trust accounts, international accounts, retirement accounts and joint accounts/custodial accounts are coming soon. There is no minimum deposit for cash accounts. But to use margin in a margin account, you will need at least $2000 in your account. Therefore, it is reasonable to deposit at least $2000 to earn margin privileges.
Tastyworks offers very clean, fully customizable and easy to use charts. For these charts, Tastyworks offers 100 different indicators to choose from and all of these can have custom settings as well. Additionally, they have 20 different drawing tools to choose from. All of these technical analysis features are fully customizable to fit every individual. But all of this is fairly standard for a good broker.
The next really great feature on Tastyworks that I love, is their watchlists. By default, Tastyworks has 11 different preset watchlists to choose from for now (Positions, Notable Stocks, High Options Volume, Live on Tastytrade, Tastytrade Futures, Liquidity, Tastytrade Stocks, Market, Tom's Watchlist, TastyTrade Default, Upcoming Earnings). These preset lists are great for different purposes. For example, a watchlist displaying assets with high options volume can really be helpful (for an options trader).
Normally watchlists found on other broker platforms just seem to be some random securities in a list. But the preset lists aren't even the best part in my opinion; the ordering/filtering mechanism is. All lists can always be ordered by many different filters. For example, you can filter for the biggest move, Bid/Ask price, liquidity, volume… but best of all IV Rank. In options (especially in my strategy) implied volatility (IV) is very important. It can make the difference between losing and winning.
IV Rank shows you how high implied volatility for a certain asset is compared to earlier IV for this asset. In other words, it shows you if implied volatility is high or low. Many brokers don't even have IV Rank at all. But the fact that you can order stuff from highest IV to lowest IV is so incredibly helpful for option traders. It will allow you to find high IV assets with 1 click. Just to give you some perspective: Optionalpha, an option trading website offers a paid watchlist with the main feature being sorting by IV Rank (The watchlist is great). So people normally go to websites and pay money just to do this. The fact that Tastyworks has included this is awesome. Option traders will love this.
For instance, I as an option trader, can now just choose the preset watchlist 'High Options Volume', filter from highest IV Rank to lowest resulting in a long list of potentially profitable trades. The same cost me money and so much more time before I used Tastyworks. Of course, you can also create your own, custom watchlists and filter these.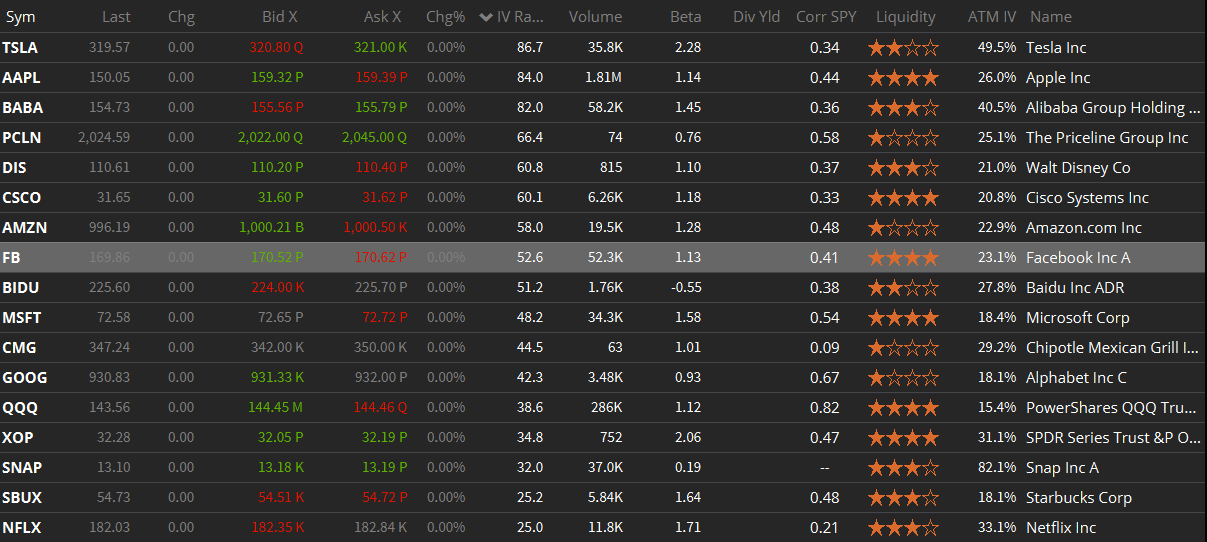 In general, I would say that Tastyworks has many great features, especially for option traders. They have more or less normal and simple option chains that you of course also can customize for your personal needs. By default, you have volume, the probability of profit, Bid/Ask price, expiration date, and strike displayed. But you can change that and add many different readings. Directly under the option chain, you can see the options that you selected and all the statistics for those (probability of profit, delta, theta, standard deviation, P/L, implied volatility, the expected move, max profit/loss, exp date/s, strike/s, price). This makes it very easy to analyze your potential position. Additionally, you can and just/change the options directly from the option chain or the order menu below. This makes setting up and analyzing orders very easy and fast.
In addition to the option chain, Tastyworks also offers a cool, more appealing alternative. They have this interactive payoff curve, wherein you can select/adjust/change different stock or option positions. This directly shows you how your changes affect the payoff. This is good for users that want to have a good alternative or addition to the option chain, but I am glad that they still included a normal chain.
Recently the Tastyworks team added an Analysis feature to their trade tab. The Analysis feature allows you to analyze existing and potential positions in many different ways. The feature has too many options, to be described in a brief paragraph. Therefore, I added the following video. It is a walkthrough of the Analysis feature. Even if you don't watch the whole thing, you should get a pretty good idea of how the feature works.
Don't be worried if the Analysis tab seems intimidating and complicated at first. You will get used to it while using Tastyworks. The Analysis feature is a great way to visualize potential price changes, risks and rewards that occur when certain market conditions change. I will definitely incorporate this feature into my trading.
In a recent update, yet another interface was added. This one is called Active and it is built for the active trader. It allows you to order and manage mainly stock (and futures) positions with extreme ease and speed. This makes Tastyworks attractive for stock traders, but the interface is even more useful for futures traders.
Another good feature for option traders, especially for less advanced traders are the preset strategies. Directly on the option chain (or the curve), you can choose from 20+ different option trading strategies, like vertical spreads, iron condors, strangles, straddles, calendar… This and the great adjustment features are great for beginners or just lazy people that don't want to set up the strategies by themselves.
Moreover, Tastyworks has a tab called 'Follow'. In that section, Tastyworks displays all the recent trades of their successful veteran traders. The date, reason, P/L, and much more are displayed for every single trade. If you like one or more trades, you can choose to copy that exact trade. All of these can also be filtered for different criteria.
An additional tab inside the Tastyworks trading platform is the 'Tastytrade' tab. If you didn't know, Tastyworks is created by the Tastytrade team. Tastytrade is a huge financial network that tries to educate its viewers/readers about the market and especially about options. In the 'Tastytrade' tab, you can watch Tastytrade either live or older videos. You can also access their market research with their market outlooks for different assets.
Additionally, Tastyworks has amazing support for any problems. If you have a minor question or problem, there is a huge library of questions accessible straight from the platform itself. If you can't get your question answered there, you can always choose to ask your question in the live chat. The support team typically responds straight away.
All of the features discussed above are available either on the Tastyworks web-based platform or on the downloadable program. The platform, in general, is very clean and easy to use and navigate. It is not set up in a complicated manner at all. Even beginners should have no problem at all. Furthermore, Tastyworks now does offer a mobile app from which you easily can trade and manage your positions on the go. This Tastyworks app is very useful as it makes you much more flexible. It is available on both IOS and Android.
And finally, I want to name a few upcoming features to get you excited about Tastywokrs bright future: Portfolio Margin, Paper Trading, Open API, New Scripting Language, Many New Mobile Features and more… All of these features really are something to look forward to. I personally am especially excited to check out the new scripting language.
Make sure to check out my ultimate tastyworks tutorial to learn more about the platform.
---
Pricing
Pricing is one of Tastyworks biggest strong points, especially when it comes to options. They completely blow every other brokerage firm that I know out of the water. There is no comparison. Even otherwise very cheap broker firms, can't hold up with this. First of all, there are no base rates at Tastyworks. Secondly, their initial commissions are very low. And finally, they have no commissions on closing trades. I have never seen any other broker do this.
Commissions for options are $1 per contract (again with no base rate). I prefer option commissions that are per contract over those that are per order because this gives you more flexibility when ordering.
Tastyworks' stock commissions are even better than their option commissions! That's because there are none. Yes, that's right, Tastyworks does not require you to pay any commissions when trading stocks, regardless of how many shares you trade! (Note that there still will be a small clearing fee of $0.0008 per share which is standard at all broker firms).
The low commissions are especially great for beginners and traders with smaller accounts. Often commissions can eat up the small profits made in smaller accounts. In Tastyworks, you can trade very small positions and still make money. This is not the case for many other brokers. But traders with bigger accounts will definitely enjoy the low commissions as well. 
Commissions on futures and on options on futures are extremely competitive as well. As you can see below, you have to pay $1.25 per futures contract both when opening and when closing the position. Options on futures require $2.5 per contract to open and $0 commissions to close.
When it comes to pricing and commissions, Tastyworks is BY FAR the best and cheapest broker that I know of.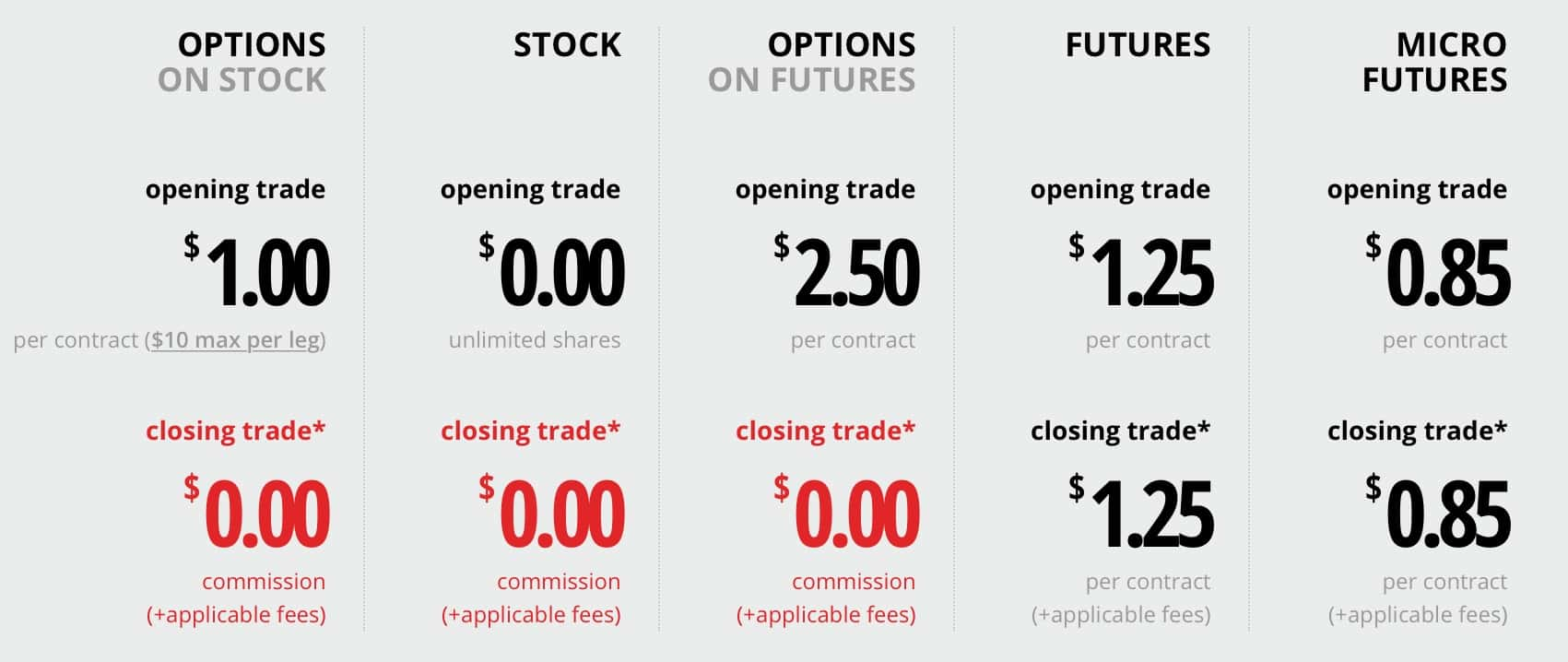 But we are not done yet with commissions. In 2019, Tastyworks launched their next commission modification: capped commissions. Yes, that's right. Now there is a maximum you can pay in commissions on options trades. That maximum is a staggering $10 per leg. Here are some examples to show you the actual impact of such a cap:
100 Puts or Calls (one leg) normally would have cost you $100 in commissions alone ($1 per contract). Now the exact same trade would cost you $10 in commissions. Already $100 aren't a lot compared to other brokers, but $10 for such a position really is revolutionary.
200 Credit Spreads (two legs) would have cost you $400 ($2 commissions per spread). This and other spreads with two legs is now capped at $20 in commissions. I don't know what to say more…
100 Iron Condors (four legs) would have set you back $400 in commissions alone ($3 per Iron Condor). Such a spread is now capped at $40 in commissions which really is very low for 100 Iron Condors or any other 4-leg spread.
Before concluding this review, I want to add another note on Tastyworks' commission structure. In 2019, other firms have also started offering low or even no commissions on their stock trades. This, however, often comes at a cost in some other areas. Other cheap brokers often have unreliable, slow, and, in general, slow trade executions. From experience, I can say that this is not the case for Tastyworks. Even though they offer extremely low commissions, they don't slack on their trading infrastructure or other aspects.
On the following table, you can see that, when it comes to options, tastyworks is the cheapest choice among these brokers. (Note that non-trading commissions such as clearing fees aren't taken into account here.)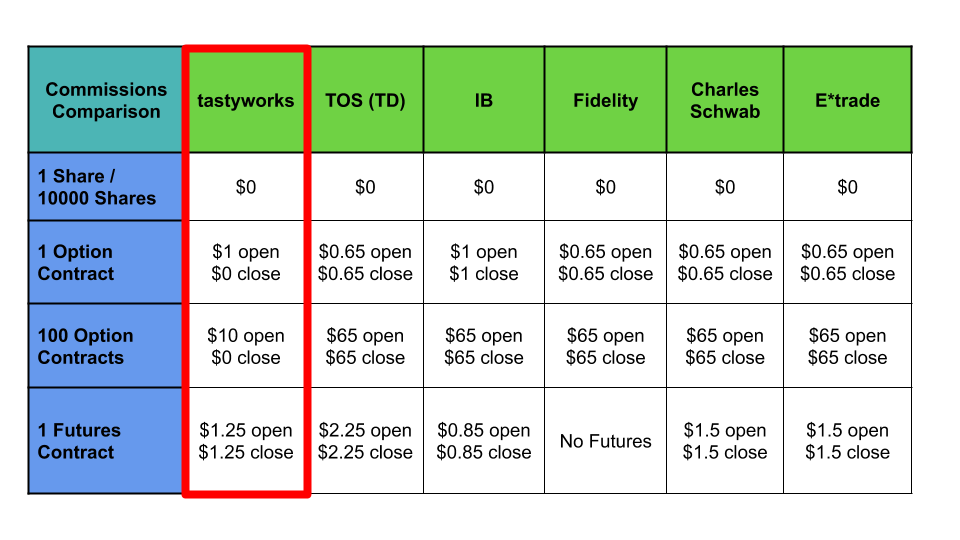 ---
Conclusion:
As Tastyworks has changed so much over the past few weeks/months/year, I had to re-write my conclusion over and over again. But just to show you how my conclusion changes, I want to keep one of my older conclusions for you:
"As you probably have guessed by now, Tastyworks is a broker designed for option (and futures) traders. Tastyworks is a paradise for option traders. It has the best pricing/commissions that exist, near perfect software and features (for option trades). You can really notice how the trading platform is built for an option trader, all the features are exactly what an option trader needs. Things that once took ages now can be done with a few clicks. As the creators are option traders by heart, they also know what an option trader wants and needs. The creators use Tastyworks themselves and that is also why the whole platform revolves around the user. They built an amazing platform for themselves and anyone like-minded. Tastyworks is more or less perfect for an option trader. But if you aren't an options trader and don't want to use all the features that they offer, Tastyworks is probably not for you. Tastyworks is really only for option traders and not for any stock traders or anything else. You can trade stocks with them, but the features will be limited."
As you see, I really enjoyed the Tastyworks platform already, but in my opinion, it was only really suitable for the options trader and not anyone else. Now I feel that this has changed. I still don't think Tastyworks is for a super-advanced stock trader that needs tons of crazy advanced features. But if you want to trade some stocks based on some charting or similar 'normal' analysis, Tastyworks is definitely a great choice. The extremely low commissions, upcoming features, amazing customer support and more aren't only attractive to options or futures traders anymore. Stock traders can definitely benefit from Tastyworks.
Even though Tastyworks is still relatively new, they are already available in most countries. They are constantly updating and improving their platform by adding new features and more. In the course of the past few months, Tastyworks has changed and improved a lot.
Bonus Offer: Get $200
If you are reading this before the end of August of 2022, you can get $200 in stock as a signup bonus if you open and fund your account with at least $2000.
Click HERE to Open a Tastyworks Account!
Some of the links within this Tastyworks review are referral links of which I may receive a small compensation. There are no added costs for you and these referral links do not influence the objectivity of my review.
Tastyworks Review
Pros
Great Customer Support
Easy to use Platform
Awesome Features
Good Order Executions
Very Low Commissions
Many Upcoming Features/Improvements
Fully Regulated
Cons
No Very Advanced Stock Trading Features
Mobile App Could Use Improvements