A while ago I wrote my first review of IQ Option, but since then a lot has changed. That is the reason why I am updating this review of IQ Option. Back when I wrote my first review of IQ Option, they were mainly a binary option broker, but now they offer other 'investment products' as well.
Binary options are a blatant scam and therefore, I couldn't recommend IQ Option back then. The question is, has this changed or is IQ Option still an untrustworthy, shady and scammy broker?
---
Regulations
Let's start with regulations. Regulations are the most important aspect to look at when looking at brokers. Without regulations, a broker isn't trustworthy at all.
The good news is that IQ Option is regulated. But the bad news is that they are regulated and licensed by CySEC. CySEC is a regulator based in Cyprus and therefore, this regulation isn't really trustworthy.
Good legitimate brokers are usually regulated by trustworthy regulatory firms like the SEC or FINRA.
---
Features
I won't go into too much detail with all the different available features at IQ Option because this would be a waste of time. Here is a brief list of available features:
'Investment' Products: Let's start with some 'investment' products. IQ Option offers stocks, forex, cryptocurrencies, and ETFs. Sounds great you may think? However, they only offer these in form of CFDs. I will tell you what exactly this means in a few moments.
Furthermore, IQ Option offers binary/digital options, another illegitimate product.
Multipliers: IQ Option's 'multipliers' aren't anything else than leverage. The leverage ratios vary a lot. As far as I know, the maximum available leverage ratio is 1 to 300. This allows you to lose your money 300-times as fast as you usually would.
Mobile App: IQ Option also offers a mobile app or at least they used to. I am not 100% sure if they still have one. Their mobile app got banned from Apple's App Store because even Apple knows that binary options are a scam.
'Education': Furthermore, IQ Option has a few educational series on their website in which they show you how you can lose your money the fastest possible way.
Technical Indicators/Charts: Just like every broker platform, IQ Option also offers customizable charts and technical indicators. These exist to create the illusion that you can make money with IQ Option by using some fancy indicators and charts.
Practice/Demo Accounts: If you don't feel like losing any real money yet, you could also try your luck with IQ Option's virtual accounts. In these accounts, you can gamble with virtual money. Ideally, these demo accounts make you think you actually stand a chance with real money.
Traderoom: This is a chatroom in which other fake accounts tell you how to lose your money the fastest way. Furthermore, you can read about all the fake accounts that are making tons of money with IQ Option in this chatroom.
Competitions: IQ Option also hosts trading competitions. These competitions work more or less in the following way: 1. You deposit money to a designated competition account, 2. You lose the money as fast as possible.
24/7 'Support': IQ Option also offers 24/7 support. So if you have questions about why you can't withdraw any money, this is the place to go.
Smooth and Easy to use platform: Generally speaking, IQ Option's platform is quite simple and easy to use. This means that the platform makes it as easy and as straightforward as possible to lose your money.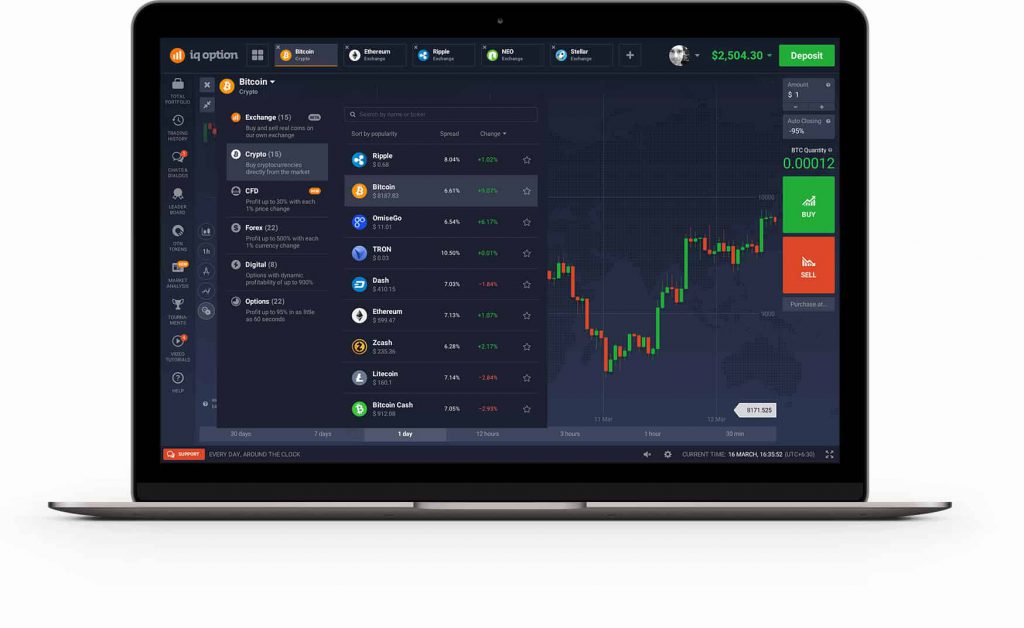 Very wide Bid/Ask spreads: Another thing that makes it even less likely to ever make money with IQ Option is their really wide Bid/Ask spreads. Due to their wide spreads, you will have to buy far above the current market price of an asset and sell far below the current market price of an asset. So picking the right direction isn't enough to make money. The asset has to go far in that direction just to break even.
By now there are probably even more unnecessary and useless features.
---
Is IQOption a Scam?
I don't want to waste your time with tons of unnecessary information. Therefore, I will get straight to the point with this.
IQ Option is NOT a legitimate broker!!!
Here are 5 reasons why this is the case:
Binary Options:
If you didn't know yet, I am sorry to burst your bubble. But binary options are a huge scam!!! That is also the reason why binary options are getting banned in countless countries. So if a broker offers a scammy product that makes the broker just as much a scam. The fact that IQ Option offers (or offered) binary options is enough to make them an illegitimate broker! If you want to learn about all the reasons why binary options aren't legitimate investment products, you should check out my binary options review!
Regulation:
Like I said before, regulations are one of the most important aspects of a broker. A sketchy regulation company based in Cyprus does not make a broker legitimate. This is another reason that is enough to not recommend IQ Option.
Leverage:
Leverage per se isn't necessarily a bad thing. However, if a broker offers insane leverage ratios of 1:300 like IQ Option, that is a very shady thing. Just think about it yourself. Why would a firm allow you to borrow 300 times your money to trade with? Because they want you to lose your money as fast as possible!
CFDs:
What is a CFD? CFD stands for 'Contract for Difference' and they are an Over-The-Counter (OTC) product. This means that IQ Option will be your counterparty when you trade CFDs with them. Do you see any conflict of interest here? If your broker takes the opposite side of your trade, they want you to lose. CFDs are just a better version of binary options. They make the trader feel like he/she is trading real products, but in reality, he/she isn't. If a broker says they offer stocks, Forex, cryptocurrencies and more, but only in form of CFDs, they aren't legitimate.
Can't withdraw:
There have been countless incidents of people not being able to withdraw their winnings. So even if you are lucky enough to win some money, it isn't guaranteed that you will be able to withdraw that money.
So one more time, is IQOption a scam?
Yes!
---
Conclusion
In conclusion, IQ Option is an untrustworthy, illegitimate, shady, sketchy, scammy… broker that I can't recommend!
You may ask yourself why I am the only person on the internet saying this. The reason is that 99% of all other sites aren't being genuine. Why aren't they being genuine?
Because IQ Option is paying them to be dishonest. IQ Option and most other binary option brokers for that matter offer very lucrative affiliate programs. So these sites promote brokers like IQ Option and earn juicy commissions every time when someone signs up to IQ Option.
Sadly, most people aren't smart enough to see through this bullshit. So please do yourself the huge favor and avoid IQ Option and any other (former) binary option brokers!!! Don't fall for the lies!
I hate it when people think that binary options and brokers like IQ Option are legitimate because of all the shady promotional tactics.
I truly don't want you to be the next victim of these scams. But it is only you that can decide this. So make the correct decision and don't deposit any money to these firms!!!
Binary options and companies like IQ Option just shed a bad light on the financial industry, on trading, and on real options. Options are real and legitimate investment vehicles. Sadly, many people fail to distinguish between real options and binary options even though there is a huge difference. Normal, vanilla options are legit, whereas binary options aren't. If anyone tells you otherwise, he/she either is a binary option broker, affiliated with a binary option broker or just stupid.
If you want to learn how to trade real options, you should definitely check out my free beginner course!
Recently IQ Options sketchy business model got harmed due to EU's new ESMA regulations. But I am confident that IQ Option and most other similar brokers will come up with new products (that aren't affected by these regulations) to steal money from their clients.
Thanks for taking the time and going through this review of IQ Option. Have you had any bad (or good) experiences with IQ Option or other similar brokers?
Please let me know in the comment section below!
Review of IQ Option
Legitimacy of Their Investment Products
1.0/10
Pros
Smooth Platform that makes it Easy to Lose Money
Cons
Aren't Regulated By A Trustworthy Agency
Countless Incidents of Customers Not Getting Their Money
Binary Options, CFDs... aren't Good Investment Vehicles
IQOption isn't a Reliable Broker