If you are learning about options, assignment might seem like a scary topic. In this article, you will learn why it really isn't. I will break down the entire options assignment process step by step and show you when you might be assigned, how to minimize the risk of being assigned, and what to do if you are assigned.
---
Video Breakdown of Options Assignment
Check out the following video in which I explain everything you need to know about assignment:
---
What is Assignment?
To understand assignment, we must first remember what options allow you to do. So let's start with a brief recap:
A call option gives its buyer the right to buy 100 shares of the underlying at the strike price
A put option gives its buyer the right to sell 100 shares of the underlying at the strike price
In other words, call options allow you to call away shares of the underlying from someone else, whereas a put option allows you to put shares in someone else's account. Hence the name call and put option.
The assignment process is the selection of the other party of this transaction. So the person that has to buy from or sell to the option buyer that exercised their option.
Note that an option buyer has the right to exercise their option. It is not an obligation and therefore, a buyer of an option can never be assigned. Only option sellers can ever be get assigned since they agree to fulfill this obligation when they sell an option.
Let's go through a specific example to clarify this:
The underlying security is stock ABC and it is trading at $100.
Peter decides to buy 1 put option with a strike price of 95 as a hedge for his long stock position in ABC
Kate sells this exact same option at the same time.
Over the next few weeks, ABC's price goes down to $90 and Peter decides to exercise his put option. This means that he uses his right to sell 100 shares of ABC for $95 per share. Now Kate is assigned these 100 shares of ABC which means she is obligated to buy them for $95 per share.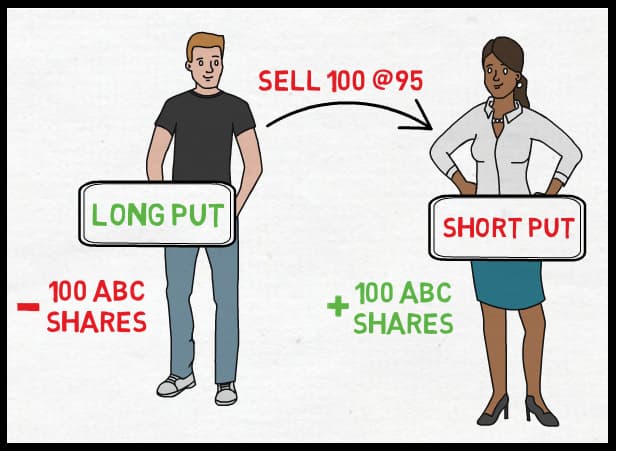 Peter now has 100 fewer shares of ABC in his portfolio, whereas Kate has 100 more.
This process is analog for a call option with the only difference being that Kate would be short 100 shares and Peter would have 100 additional shares of ABC in his portfolio.
Hopefully, this example clarifies what assignment is.
---
Who Can Be Assigned?
To answer this question, we must first ask ourselves who exercises their option? To do this, let's quickly look at the different ways that you can close a long option position:
Sell the option: Selling an option is probably the easiest way to close a long option position. Doing this will have no effect on the option seller.
Let the option expire: If the option is Out of The Money, it would expire worthless and there would be no consequence for the option seller. If, on the other hand, the option is In The Money by more than $0.01, it would typically be automatically exercised. This would start the options assignment process.
Exercise the option early: The last possibility would be to exercise the option before its expiration date. This, however, can only be done if the option is an American-style option. This would, once again, lead to an option assignment.
So as an option seller, you only have to worry about the last two possibilities in which the buyer's option is exercised. 
But before you worry too much, here is a quick fact about the distribution of these 3 alternatives:
Less than 10% of all options are exercised.
This means 90% of all options are either sold prior to the expiration date or expire worthless. So always remember this statistic before breaking your head over the risk of being assigned.
It is very easy to avoid the first case of being assigned. To avoid it, just close your short option positions before they expire (ITM). For the second case, however, things aren't as straight forward.
---
Who Risks being Assigned Early?
Firstly, you have to be trading American-style options. European-style options can only be exercised on their expiration date. But most equity options are American-style anyway. So unless you are trading index options or other kinds of European-style options, this will be the case for you.
Secondly, you need to be an options seller. Option buyers can't be assigned.
These two are necessary conditions for you to be assigned. Everyone who fulfills both of these conditions risks getting assigned early. The size of this risk, however, varies depending on your position. Here are a few things that can dramatically increase your assignment risk:
ITM: If your option is ITM, the chance of being assigned is much higher than if it isn't. From the standpoint of an option buyer, it does not make sense to exercise an option that isn't ITM because this would lead to a loss. Nevertheless, it is possible. The deeper ITM the option is, the higher the assignment risk becomes.
Dividends: Besides that, selling options on securities with upcoming dividends also increases your risk of assignment. More specifically, if the extrinsic value of an ITM call option is less than the amount of the dividend, option buyers can achieve a profit by exercising their option before the ex-dividend date. 
Extrinsic Value: Otherwise, keep an eye on the extrinsic value of your option. If the option has extrinsic value left, it doesn't make sense for the option buyer to exercise their option because they would achieve a higher profit if they just sold the option and then bought or sold shares of the underlying asset. Typically, the less time an option has left, the lower its extrinsic value becomes. Implied volatility is another factor that influences extrinsic value.
Puts vs Calls: This is more of an interesting side note than actual advice, but put options tend to get exercised more often than call options. This makes sense since put options give their buyer the right to sell the underlying asset and can, therefore, be a very useful hedge for long stock positions.
---
How can you Minimize Assignment Risk?
Since you now know what assignment is, and who risks being assigned, let's shift our focus on how to minimize the assignment risk. Even though it isn't possible to completely remove the risk of being assigned, there are things that you can do to dramatically decrease the chances of being assigned.
The first thing would be to avoid selling options on securities with upcoming dividend payments. Before putting on a position, simply check if the underlying security has any upcoming dividend payments. If so, look for a different trade.
If you ever are in the position that you are short an option and the ex-dividend of the underlying security is right around the corner, compare the size of the dividend to the extrinsic value of your option. If the extrinsic value is less than the dividend amount, you really should consider closing the position. Otherwise, the chances of being assigned are high. This is especially bad since being short during a dividend payment of a security will force you to pay the dividend.
Besides avoiding dividends, you should also close your option positions early. The less time an option has left, the lower its extrinsic value becomes and the more it makes sense for option buyers to exercise their options. Therefore, it is good practice to close your (ITM) short option positions at least one week before the expiration date.
The deeper an option is ITM, the higher the chances of assignment become. So the just-mentioned rule is even more important for deep ITM options.
If you don't want to indefinitely close your position, it is also possible to roll it out to a later expiration cycle. This will give you more time and add extrinsic value to your position.
---
FAQs about Assignment
Last but not least, I want to answer some frequently asked questions about options exercise and assignment.
1. What happens if your account does not have enough buying power to cover the assigned position?
This is a common worry for beginning options traders. But don't worry, if you don't have enough capital to cover the new position, you will receive a margin call and usually, your broker will just automatically close the assigned shares immediately. This might lead to a minor assignment fee, but otherwise, it won't significantly affect your account. Tatsyworks, for example, charges an assignment fee of only $5.
Check out my review of tastyworks
2. How does assignment affect your P&L?
When an option is exercised, the option holder gains the difference between the strike price and the price of the underlying asset. If the option is ITM, this is exactly the intrinsic value of the option. This means that the option holder loses the extrinsic value when he exercises his/her option. That's also why it doesn't make sense to exercise options with a lot of extrinsic value left.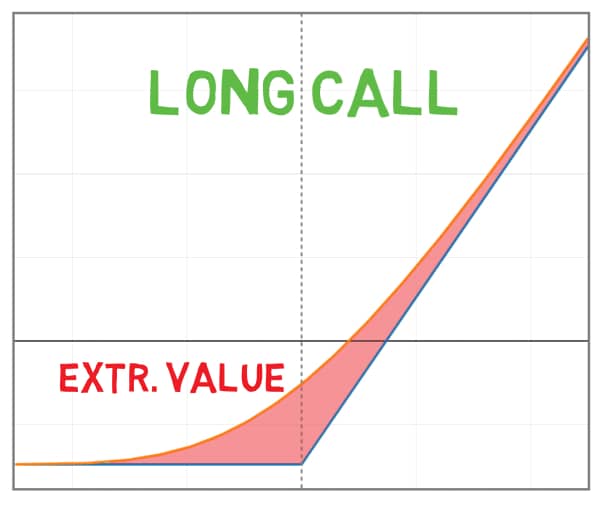 This means that as soon as the option is exercised, it is only the intrinsic value that is relevant for the payoff. This is the same payoff as the option at its expiration date.
So as an options seller, your P&L isn't negatively affected by an assignment. Either it stays the same or it becomes slightly better due to the extrinsic value being ignored.
As an example, if your option is ITM by $1, you will lose up to $100 per option or $1 per share that you are assigned. But this does not account for the extrinsic value that falls away with the exercise of the option. So this would be the same P&L as at expiration. Depending on how much premium you collected when selling the option, this might still be a profit or a minor loss.
With that being said, as soon as you are assigned, you will have some carrying risk. If you don't or can't close the position immediately, you will be exposed to the ongoing price fluctuations of that security. 
Sometimes, you might not be able to close the new position immediately because of trading halts, or because the market is closed.
If you weren't planning on holding that security, it is a good idea to close the new position as soon as possible. 
Option spreads such as vertical spreads, add protection to these price fluctuations since you can just exercise the long option to close the assigned share position at the strike price of the long option.
3. When an option holder exercises their option, how is the assignment partner chosen?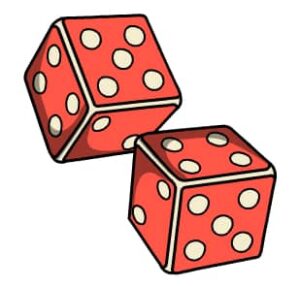 This is usually a random process. As soon as an option is exercised, the responsible brokerage firm sends a request to the Options Clearing Corporation (OCC). They send back the requested shares, whereafter they randomly choose another brokerage firm that currently has a client that is short the exercised option. Then the chosen broker has to decide which of their clients is assigned. This choice is, once again, random or a time-based priority system is used.
4. How does assignment work for index options?
As there aren't any shares of indexes, you can't directly be assigned any shares of the underlying asset. Therefore, index options are cash-settled. This means that instead of having to buy or sell shares of the underlying, you simply have to pay the difference between the strike price and the underlying trading price. This makes assignment easier and a lot less likely among index options.
Note that ETF options such as SPY options are not cash-settled. SPY is a normal security with openly traded shares, so exercise and assignment work just like they do among equity options.
---
Conclusion
I hope this article made you realize that assignment isn't as bad as it might seem at first. It is just important to understand how the options assignment process works and what affects the likelihood of being assigned.
To recap, here's what you should to do when you are assigned:
if you have enough capital in your account to cover the position, you could either treat the new position as a normal (stock) position and hold on to it or you could close it immediately. If you don't have a clear trading plan for the new position, I recommend the latter.
If, on the other hand, you don't have enough buying power, you will receive a margin call from your broker and the position should be closed automatically.
Assignment does not have any significant impact on your P&L, but it comes with some carrying risk. Options spreads can offer more protection against this than naked option positions.
To mitigate assignment risk, you should close option positions early, always keep an eye on the extrinsic value of your option positions, and avoid upcoming dividend securities.
And always remember, less than 10% of options are exercised, so assignment really doesn't happen that often, especially not if you are actively trying to avoid it.
For the specifics of how assignment is handled, it is a good idea to contact your broker, as the procedures can vary from broker to broker.
Thank you for taking the time and reading this post. If you have any questions, comments, or feedback, please let me know in the comment section below.