Are you considering getting into options trading? If so, you came to the right place. In this article, we're going to look at the differences between stocks and options as well as the advantages and disadvantages of both. After reading this article, you should know which of these trading styles is right for you and how to get started.
Stocks vs Options Video Breakdown
Check out the following video in which I break down the pros and cons of stocks vs options trading.
---
Stocks vs Options
Equity
The first advantage that stocks offer compared to options is that buying stocks give you equity, whereas options don't. This means that buying shares of a stock gives you ownership rights. These rights could include the right to receive dividends, voting rights, and more. Options, on the other hand, offer none of these benefits. Especially for long term passive buy and hold investing, this can be a reason to avoid options.
Liquidity
Liquidity is another area in which stocks outperform options. Compared to stocks, options are much less liquid. Since there are so many different options on a security, the daily volume of an option will almost always be lower than the volume of its underlying asset. A daily volume of a few thousand contracts of an option is considered very good, whereas the same volume would be considered terrible liquidity for stocks. With that being said, there are many securities with very liquid options. Typically, if a stock is very liquid, it's options will offer good enough liquidity as well. So if you focus on the right securities and the right option contracts, this shouldn't make too big of a difference. Nevertheless, it is important to always check the liquidity of an option before trading it.
Capital
Even though stocks tend to be more liquid than most options, they also tend to be much more expensive than options. You need much less buying power to effectively trade options than to trade stocks. A single option contract controls 100 shares of the underlying stock and you can easily buy an option contract for $100 or less even if the underlying stock is worth hundreds of dollars itself. This is because options use something called leverage. Trading with leverage can have many advantages since it can amplify your profits. But it is important to understand that it can just as well amplify your drawdowns. Therefore, it is fundamental to have solid risk management practices in place before trading options!
Summed up, options allow you to trade in big-name stocks without actually requiring a huge trading account. Besides stocks, you can also trade options on Exchange-traded funds, market indexes, futures, commodities, forex, and more.
Versatility
In addition to requiring much less buying power than stocks, options also allow you to be much more versatile with your trading. In a certain sense, trading stocks is boring. You never have more than two choices. You can either buy or sell the given stock. Besides buying to open a stock position, you can also short sell a stock if you have a margin account with enough funds. But if you have a cash account, you can literally only go long. This restricts your trading tremendously.
With options, the options are literally endless. You can build the perfect position for every market scenario imaginable. Let me show you a specific example to prove this point.
For this, let's take a look at MSFT (Microsoft) recent price chart: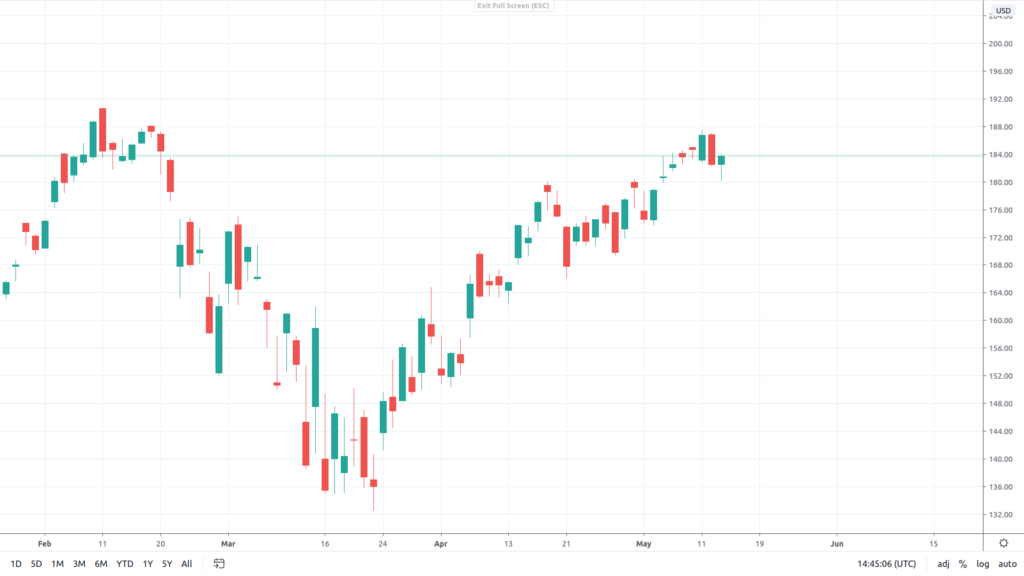 As you can see, at the time of making this, MSFT was trading at around $184. If you're only trading stocks, you could buy MSFT at the current trading price and make money if MSFT's price rises. For every $1 increase in MSFT's price, you earn $1 for every share of MSFT that you own. But each of these shares will cost you $184 to own. So to own 100 shares of MSFT, you would already have to put down close to $20000. The following chart shows the payoff profile of a 100 shares long MSFT position.
The y-axis represents the profit or loss, and the x-axis represents MSFT's price. This diagram shows that the payoff profile of a long stock position is linear.
If you have a margin account with enough capital, you could also short sell MSFT. Doing this would allow you to profit from a drop in MSFT's price. The payoff profile of a short stock position would be a mirror image of a long stock's payoff profile.
So to recap, as a stock trader MSFT's price either has to rise or drop a lot for you to really make money. If it stays right where it is or only moves a little bit, a stock position wouldn't really be worth it. Furthermore, you need a pretty big trading account to effectively trade MSFT's stock.
As an options trader, however,  you could construct any position you wanted to. No matter what your market assumption, account size, risk tolerance, time frame, there is an options strategy that is perfect for you. Instead of being limited to bullish or bearish position, options allow you to create a position that is highly directional, bullish, bearish, neutral, high risk, low risk, speculative, high probability, low probability…
For instance, let's say that we want our breakeven points to be $163 and $208, certainly a very wide price range. Below you can see an option strategy with these exact breakeven points. As you can see, this strategy profits if MSFT's price stays between $163 and $208.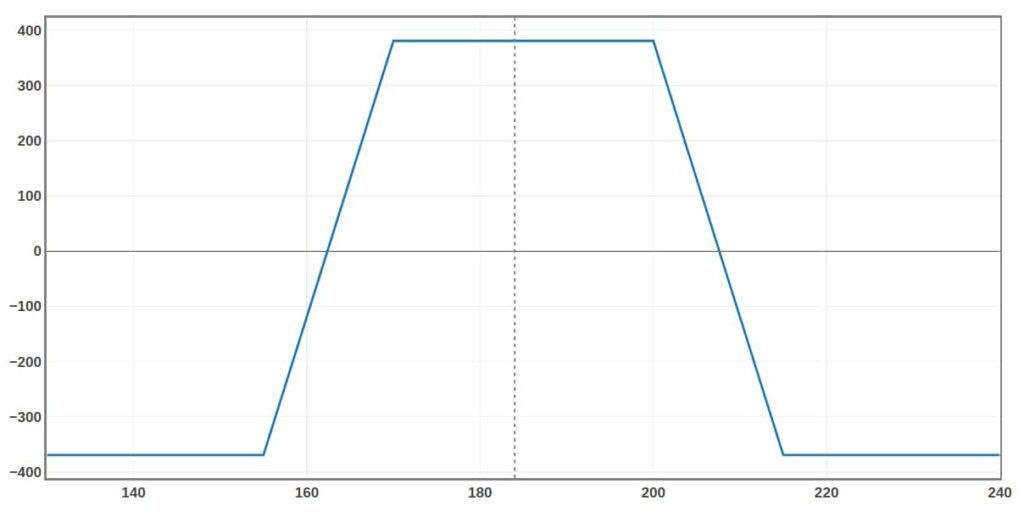 Note that options have a fixed expiration date. This means that you will always have to assign a max time-frame to your options trades. This time-frame can be everything from a few days up to multiple years. But the most commonly traded time frames are a few weeks to two months.
So if you expect MSFT's price to stay in between $163 and $208 over the next two months, the just-shown position would be perfect. You would never be able to express this market assumption with only stocks.
Let us now look at a different example. Let's say you think that over the next 70 days, MSFT's price will make a big move, but you aren't sure in which direction. The reason for this move could be an upcoming event such as earnings, technical indicators, fundamental aspects, or anything else. With stocks, you would have to decide whether you want to bet on an up-move or a down-move. But with options at your disposal, you could construct a position such as this one.
As you can see, the further MSFT's price moves, the greater this position's profit becomes. The direction of MSFT's price move is completely irrelevant as long as the price moves in one direction. This position only loses if your market assumption was dead wrong and MSFT price doesn't move at all.
Next up, let's look at one last example. This time, you think MSFT will stay below $200 over the next few weeks. Your analysis says that it likely will increase slightly, but MSFT's price might also drop instead. That's why you want to hedge your position. Then the following options strategy might be a good choice.
As you can see, this strategy is profitable as long as MSFT's price stays below $205 until the expiration date. This strategy achieves max profit if MSFT's price rises to $190 until the expiration date. But even if MSFT's price drops hugely, you would still achieve a minor profit. As you can imagine, the probability of profit of such a strategy is quite high (certainly much higher than the 50% probability for a stock position).
Hopefully, these examples gave you a good first impression of the versatility that options offer. Instead of being limited to buying and selling the underlying stock, options allow you to profit from almost any conceivable market scenario. This gives you a much more dynamic and precise approach to trading. That's also the reason why professional trading firms such as hedge funds or investment banks use options and other derivatives to engineer the perfect position for exactly their market view.
Besides using options to gain directional exposure to a security, you can also trade options to gain exposure to factors that stocks simply aren't affected by. Two of the main pricing factors that options (and not stocks) are affected by are time and volatility. This means you can generate a profit simply from the passage of time or from changes in volatility. You could, for example, construct a position that generates a daily profit as long as a certain security's price stays below a specified price level. In other words, you can put a deadline on a stock's ability to surpass a chosen price level. If the stock fails to move beyond this price level within the specified time frame, you get paid.
Furthermore, if you believe that XYZ's volatility will decrease or increase over the next 40 days, there is an options strategy that profits from exactly that. This would not be possible by solely trading stocks.
Instead of only trading on one security, you can also combine options strategies across multiple assets, different time frames, markets, price ranges, risk levels, and much more. It is also possible to combine stock and options positions for purposes such as hedging or increasing your profit potential.
Summed up, you could say that options give you options.
The Learning Curve
Besides offering much more versatility, options do also come with an added learning curve compared to stocks. Stocks are rather basic trading products which is why they are quite easy to understand. So if you aren't willing to put in the time to really understand options, you should stick to trading stocks. But in my opinion, the time it takes to learn options trading is 100% worth it.
If you want to start your options trading journey, I highly recommend checking out my free options trading courses.
---
Should You Trade Options or Stocks?
Here is a quick recap table of the pros and cons of stocks vs options:
| | |
| --- | --- |
| Stocks | Options |
| Give you Equity | Less Capital Required |
| Better Liquidity | Versatility! |
| Easy to Learn | Fixed Expiration Date |
We now covered the advantages and disadvantages of options and stocks. So let's now finally answer the question, we've been waiting for.
Should you trade options or stocks?
If you are a long term passive buy and hold investor that likes to keep things simple, stocks are a better choice than options. Furthermore, if you don't want to put a definite time limit to your trades, stocks are the way to go since options always have a fixed expiration date. Otherwise, if you are mainly active in illiquid markets such as low cap stocks, options aren't the best choice due to their relatively bad liquidity in these markets.
If, on the other hand, you prefer a more active higher risk and higher reward trading style, options are a great alternative to stocks. Furthermore, if you don't have the account size to trade stocks, options a great cheaper alternative to get started trading. The real power of options, however, is that they allow you to build 100% custom trades that perfectly fit your portfolio, your risk profile, and your market assumption. Achieving this level of versatility simply isn't possible with stocks.
With that being said, it is very important to understand that you can only take advantage of the benefits that options offer if you have a deep enough understanding of options. So if you are new to options, you should first learn what options are, how they work, and more. This doesn't mean that you need to buy some overpriced options trading course, but you should definitely educate yourself extensively before actually trading options.
If you want to get started for free, check out my free options trading courses.