Optionalpha is an educational option trading site run by Kirk du Plessis. He teaches a very similar strategy to mine (high probability OTM options selling) but has a much wider and more in-depth education to offer on his website. The main teaching medium at optionalpha is videos which often can make things much easier understandable. Kirk offers a very popular weekly podcast with over 100 different podcasts about options trading and many more are set to come. The main course on optionalpha has 3 parts. a beginner, intermediate and advanced part which all build up on each other. Optionalpha also offers a video library with over 100 videos about a variety of different topics (e.g. case studies, strategies, pricing and volatility…). Furthermore, optionalpha offers a wide range of different documents to download like a 90-page ultimate strategy guide or a 7 step entry guide and lots more. Another great thing about optionalpha is that it is constantly getting updated with new features, reports (e-books), services, software etc.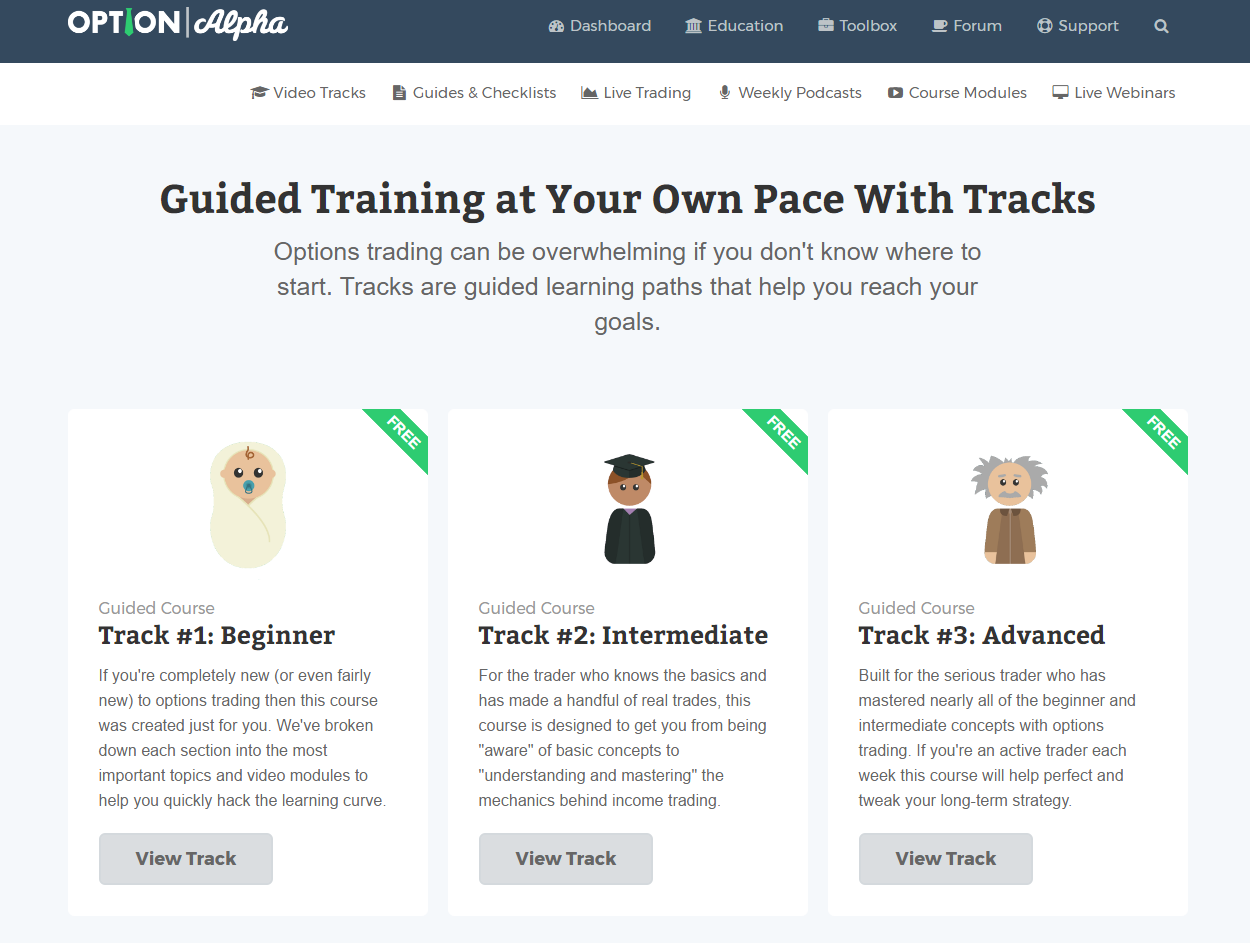 ---
Memberships
As you can see below there are three kinds of memberships at optionalpha. The Basic Membership, The Pro Membership and The Elite Membership: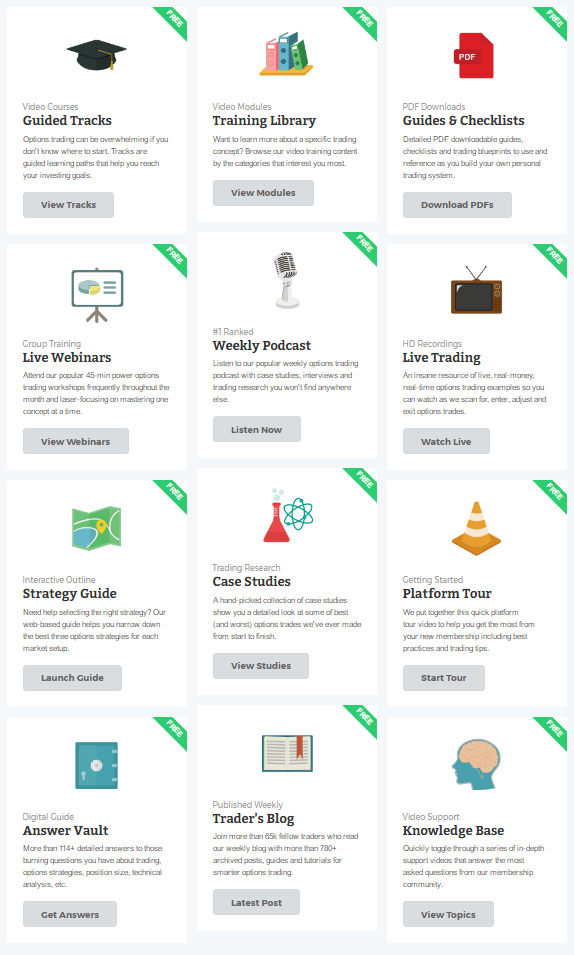 ---
Pricing
Optionalpha's pricing is the best part of them. That's because they offer so much for free! For the finance industry that is absolutely incredible and not seen anywhere else! Additionally, they do offer two paid memberships which are the pro and elite membership.
The Basic Membership is for everyone interested in options. It offers tons of educational content and is absolutely free!
The Pro Membership is for the more serious trader and has many very valuable features to offer. Pricing for it is 99$ per month or 990$ per year.
The Elite Membership is designed for the dedicated and advanced trader who wants to turn trading into a business or at least a good, consistent stream of income. The very useful features added in this membership bring a lot more value to the table. It costs 299$ per month or 1997$ for lifetime access.
Kirk also offers a report named 'Signals' for sale (Check out my review here). This report is a breakdown and analysis of technical analysis. With it, he tries to answer the question, if technical analysis really works and backtested many indicators with thousands of different settings and different trades over a time period of over 20 years. He reveals the best performing market-beating indicators and its settings in the report.
Another thing which is not for free on his website is his amazing watch list. His watch list shows only extremely liquid securities, their IV rank, which strategy best used for the securities, one day expected moves and more. All this information can be sorted. As an example, you can order it by highest IV rank to lowest. This watch list could make your trading a lot easier. It only costs 39$ and you will get lifetime access to it.
Additionally, Kirk just launched a few new amazing (paid) materials, like a backtesting software and a few more reports on different things.
What I love about optionalpha is that all the education is for free (obviously), but also that Kirk doesn't try to sell you his courses and other paid media all the time like seen on other sites. He rarely even mentions his premium memberships in his free educational videos.
---
Is Optionalpha for you
If you are interested in options and making money in the stock market there is one short answer to this: YES!!! The standard membership is 100% free so I really see no reason not to try it out. I myself have learned a lot on optionalpha, watched almost all of his great videos and I do listen to his podcasts very regularly.
The strategy offered on optionalpha is a quite conservative strategy for steady income with little volatility. It won't make you a fortune overnight, which you anyways shouldn't expect from any strategy at all.
As soon as you are ready to take your trading to the next level I would definitely encourage you to try out his paid membership and some of his extremely helpful products. His prices offer insane value. I don't think you can find anything like this online. Let's take his watch list as an example. Any other stock market website I know would charge you monthly. But Kirk gives you lifetime access for just one simple payment of 39$. I myself have tried out many of his products including his report 'Signals' which really did open my eyes regarding technical analysis. His watch list is also great and can save you a great deal of time.
Visit OptionAlpha here, to get started!
(This is a personal recommendation. I do not earn any money if you sign up at optionalpha.com)