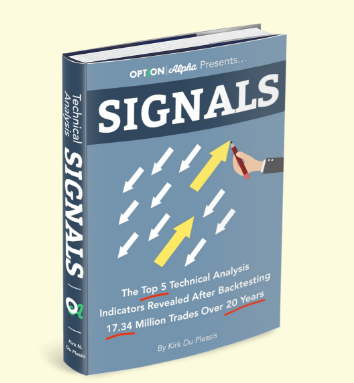 If you still haven't read my review of optionalpha.com and haven't signed up there yet, I would highly encourage you to do so. (It is 100% free!)
If you have you probably stumbled upon Kirk's report about technical analysis 'Signals' and wondered if it is something for you. I have bought and read the report quite a while ago and will now try to give a review on it.
---
Content:
As you know the report 'Signals' is all about technical analysis or more specifically technical indicators. It is based on over 15 million back tested trades and reveals the shocking truth about the reliability of some of the most used indicators. Additionally, it lets you discover the best performing indicators including one with 82% win rate and a 2'602% out performance of the market. The goal with this report was to answer three questions, which are the following:
Is Technical Analysis more reliable than randomly picking a stock's direction?
If so, can you generate excess returns above just holding SPY (Benchmark Index) on a consistent basis?
If so, what are the specific indicators and settings that work best long-term?
These are some extremely interesting and unasked questions about technical indicators.
The report is divided into three parts with even more sub parts:
Signals:
-Backtesting Report Framework
-Top Category Winners
-Optimal Settings Directory
-Real-World Portfolios
Top Settings:
-Top Indicator Settings by Performance Metric
-Top 10 Overall by Performance Metric
-Top 10 Settings for Short-Term and Medium-Term Trades
Appendix:
-Explanation of the trades and indicators used for testing
All the following Indicators were tested: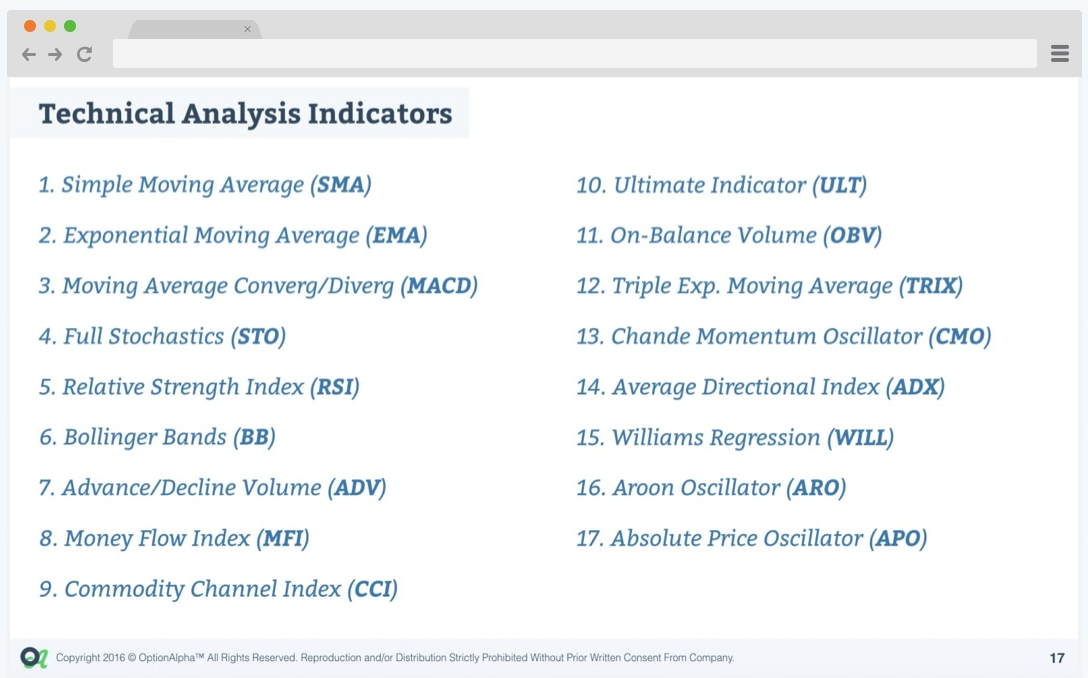 ---
Cons of the Backtesting
Even though I think that the pure scale of this backtesting is amazing, I do think that it doesn't reflect a real life trading situation to 100%. This is for various reasons.
The backtesting is done by buying/selling at every signal and relies 100% on this signal. Even though this reflects an indicator perfectly, this isn't how most traders would use technical analysis. There is no common sense or any regards to special events like dividends, market news… in the decisions made by the backtesting software. This may be the most emotionless trading ever but that isn't very realistic.
Most traders don't (and shouldn't) use one single indicator for every buy/sell decision. Traders often already have an assumption and just use indicators as a validation for it. Or they use many indicators and other technical instruments in conjunction with each other. But this backtesting is done by tracking one indicator alone disregarding everything else.
These are nevertheless just a few minor disadvantages of the backtesting. By no means makes it the gained data and information worthless. It would be nearly impossible to do perfect backtesting with no minor unrealistic settings at all. The idea of the report is to give an impression on technical indicators, their functionality and to show which ones are better and which ones are worse.
---
Pricing
The official price for the report is 297$. But there is often an offer were you can get the report at a price of 197$ and sometimes (very rarely) for 97 $.
---
Is it worth it
Before we start with this I want to tell you that this is my personal opinion and I am not earning anything on a purchase of this report.
I do think 'Signals' offers extremely informative and eye-opening raw data about technical analysis. It really does show the truth of some of the most used indicators out there. I do not think this is specifically written for an options trader. Actually I think this is even more useful and powerful for a stock trader because a directional assumption is much more important in stock trading. You won't make your trading explode with this report but you certainly can apply the knowledge and data gained in it to your trading to improve it substantially.
Even though the backtesting isn't ideal, I do still think this report is great and therefore I do recommend it. Especially if you use some forms of technical analysis in your trading, just are interested in technical analysis or are thinking of implementing it into your trading.
If you have a problem with its price point I would recommend to wait for a special offer were you'll be able to pick it up for a little less.
(After a purchase of the report any future updates of it will be 100% free).