You probably have heard of this technical analysis which shows you patterns and gives you indicators to predict the next price move in a security. If you have heard of this, I am sure you asked yourself (like most people): does technical analysis really work. I will try to help you answer this question, elaborate what it is and how it should be used.
What is Technical Analysis?
Technical analysis is based on three statements:
History repeats itself
People behave in patterns/Prices move in trends
The Market discounts everything
Therefore, followers of technical analysis believe that in stock prices certain patterns are developed and trends are formed. These patterns (after the first statement) then tend to repeat themselves. So basically it is all about spotting this pattern/trend and hopping into it at the right moment. To help identify these patterns specific charts were created. Due to the third statement followers of technical analysis often solely rely on these charts and act from charts only. This statement tells that the current price of any security discounts everything (news, companies performance etc.) and is, therefore 'correct'. Followers of technical analysis often use many different kinds of charts and draw special signal-lines on them. This process is called charting.
Basics of Technical Analysis
Here I will cover some of the basics of technical analysis. Let's start with Trends.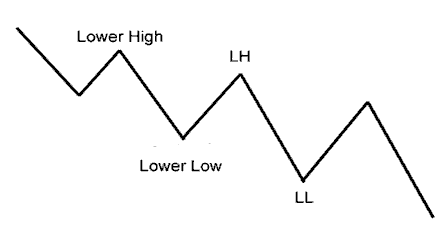 Trends
There are three possible forms of trends: an uptrend, a downtrend and a sideways trend/no trend. An uptrend is rising prices and is characterized by higher highs and higher lows. The opposite is the case for a downtrend (lower lows, lower highs). No trend or a sideways trend is where there is uncertainty in the market and therefore no real and clear directional moves.
A very important instrument in technical analysis are support and resistance lines.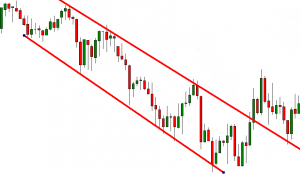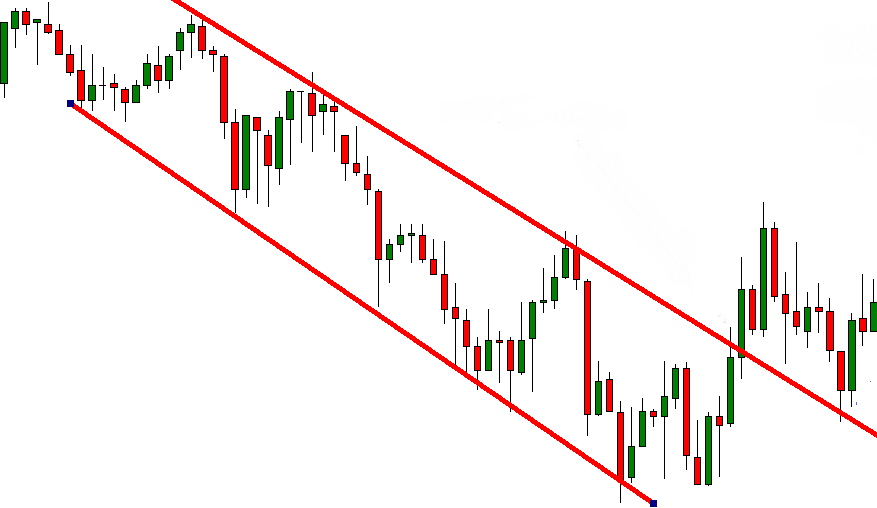 These normally make trends and other patterns much better visible. The support line is created by connecting the lows and the resistance line is created by connecting the highs of a trend. Support and resistance lines normally show areas which are hard for the price to get through.
A breakthrough through one of these lines often counts as a signal for trend reversals. The two lines create a channel. This channel can have many different forms depending on the support/resistance lines.
Charts
One of the more common used charts (mostly
by beginners) is the
line chart
. This probably is the most well-known and basic form of chart, nothing fancy here. The chart is created by connecting all the closing prices for a given security over a certain period of time. This is also the chart where there is the least given information. This chart often is used to give a cleaner and less distracting view of the price movement.
The next chart is probably the most used chart for more-advanced traders. The candlestick chart.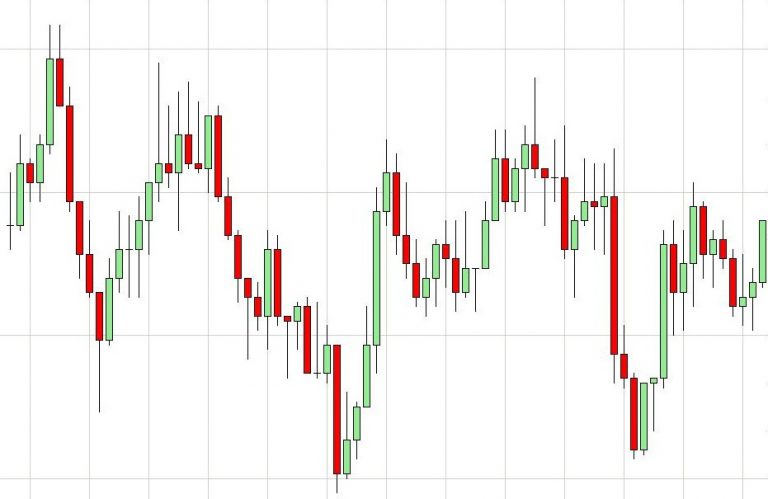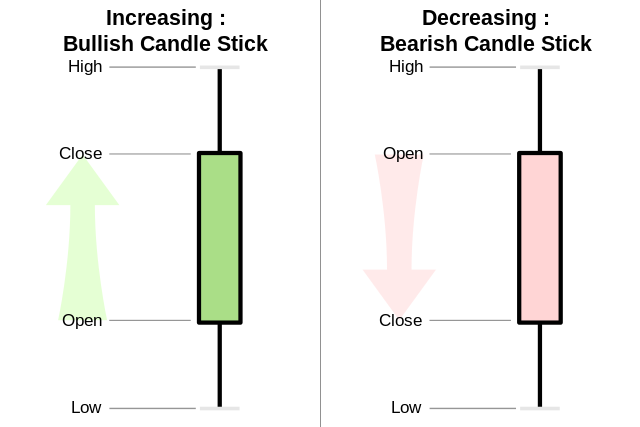 This chart offers a little more insight into trading activity than the line chart. The green candlesticks represent an up day, where the price closed higher than it opened. The red ones indicate a down day. The thin black line indicates the high and the low of a certain amount of time. The thicker red/green parts show the open and the close of a certain time. Usually, one candlestick indicates a day of trading.
These are the two most widely used charts which in my opinion really offer enough information for a single chart.
Indicators
Indicators are supposed to indicate trend reversals or trend continuations. Some indicators are placed on the actual price chart itself and some have their own separate box for themselves. There are countless different indicators. It would be impossible for me to even list half of them. Therefore, I will try to list some of the most common and most used ones here.
Moving Averages:
Moving averages are smoothed out versions of the price charts themselves. They are normally placed on the price chart itself. As for every indicator, there are many different variations of this indicator. Regarding the time frame of the average prices, the most used settings (for longer-term investors) are the 200 day/100 day and 50 day moving average. Many people even use two different types of time settings to try to find up-building momentum. Otherwise, there are two different types of moving averages. There is the simple moving average (sma) and the exponential moving average (ema). The ema is an exponential moving (stretched) version of the sma. The sma is more commonly used, but many investors use both of them at the same time.
A crossover of two moving averages can sometimes be a signal for a trend reversal.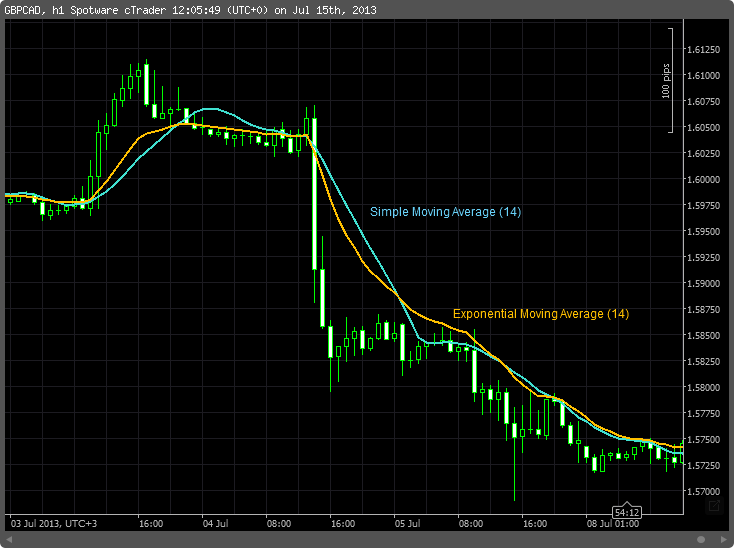 Moving Average Convergence Divergence (MACD)
If you ever read about indicators, you probably heard of this one. The MACD is one of the most well-known and most used indicators. This indicator is a momentum and trend-following indicator.  It consists of two lines which both are special kinds of moving averages. The shorter moving average is called the signal line which should be used as a trigger for buy and sell signals. Different line-ups of the two lines are supposed to show overbought and oversold conditions of a security.
Relative Strength Index (RSI)
RSI is an indicator which is set up between 0 and 100. With default settings, there are straight lines at 30 and at 70. These indicate the overbought and oversold areas. An RSI above 70 signals overbought conditions and a RSI under 30 indicates oversold conditions. The line in the middle is sometimes used as a buy/sell signal line.
Patterns
Patterns are certain formations in the price chart. Different patterns indicate different conditions and can offer different types of signals. I will try to give you some ideas of some patterns. But I won't go very deep into this topic. There are a few simplified examples of some different patterns below. (Most of them can be turned upside down to create another pattern.)
The Problem with Technical Analysis
I think technical analysis can be great and helpful for many traders. But I think there are some problems with it as well. For the first part, I think some areas of technical analysis are just completely subjective, for instance, patterns. There are so many different weird formations in stock charts, but there seldom is a perfect pattern. Therefore, you have to interpret some of these patterns and these interpretations are completely subjective. The patterns which you see often aren't the same patterns which I or someone else can identify. The same counts for support and resistance lines. You can draw them however you want. On most charts, there are at least three different ways to draw these lines.
Another problem with technical analysis is that too many people, especially beginners focus too much on it. It doesn't help to look at 20 different indicators, patterns etc. This just confuses people because there will never be a scenario where all indicators and patterns will be in indicating the same.
So should you use Technical Analysis? If yes how should you use it?
Even though I'm not the greatest fan of technical analysis, it is a good tool to help you on decisions. But it really shouldn't be more. You should never solely rely on any indicator and make a trade purely because of a signal of some kind. If you want to use technical analysis for your trading, I would suggest choosing max 4 indicators to help you make a directional decision. You should use them in conjunction with each other, so the majority of them should point in the same direction.
Technical Analysis for Options
Technical analysis is rather unimportant when trading options. What you should be looking at much more would be your option chain with implied volatility, some Greeks, the probability of ITM etc. Especially for the trading strategy I am teaching here (learn more here), technical analysis shouldn't play a very big role. Nevertheless, you can use it as a small helper for some directional assumptions