Breakouts and breakdowns are probably one of the most common technical chart patterns. Therefore, they automatically are one of the most reliable chart patterns. But there are quite a few things to look out for when trying to trade breakouts/breakdowns. In this article, I will walk you through what a breakout/breakdown actually is, how to evaluate breakouts/breakdowns and finally how to trade them.
What Is A Trading Breakout/Breakdown:
A breakout is a technical event that indicates a trend change. When the price of the asset breaks a resistance level, it is considered a breakout. There are many different breakout variations. Breakouts can be found on all sorts of different time frames. Furthermore, they can be found in practically any asset class (stocks, commodities, ETFs, Cryptocurrencies, Forex etc.). New highs are a typical feature of breakouts.
When a breakout occurs, the old resistance level usually becomes a new support level. This often leads to a small pullback to this level. If the price stays above this level, the breakout is considered successful. If not, the breakout isn't a real breakout and should return back to its original trend.
Here are some breakout examples: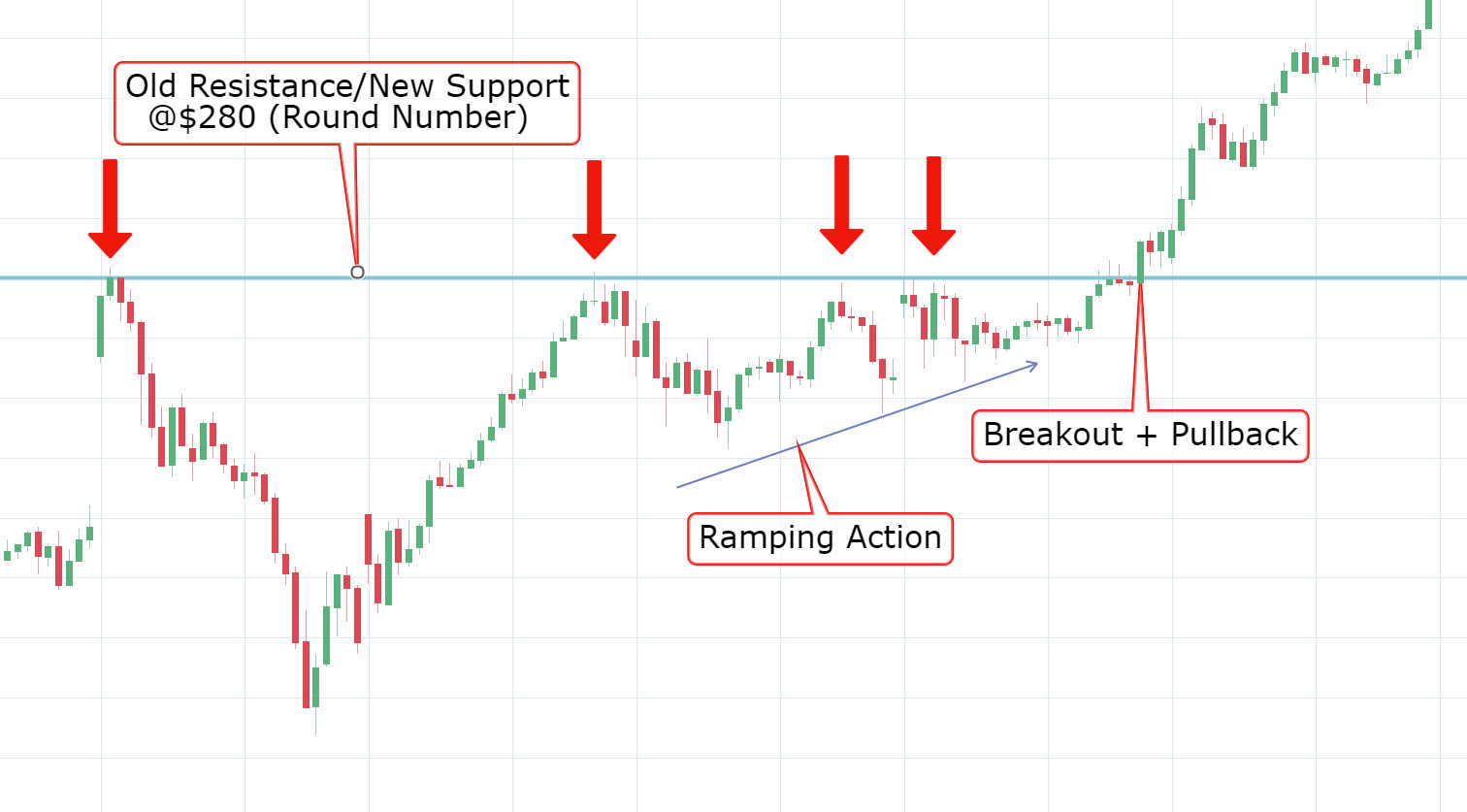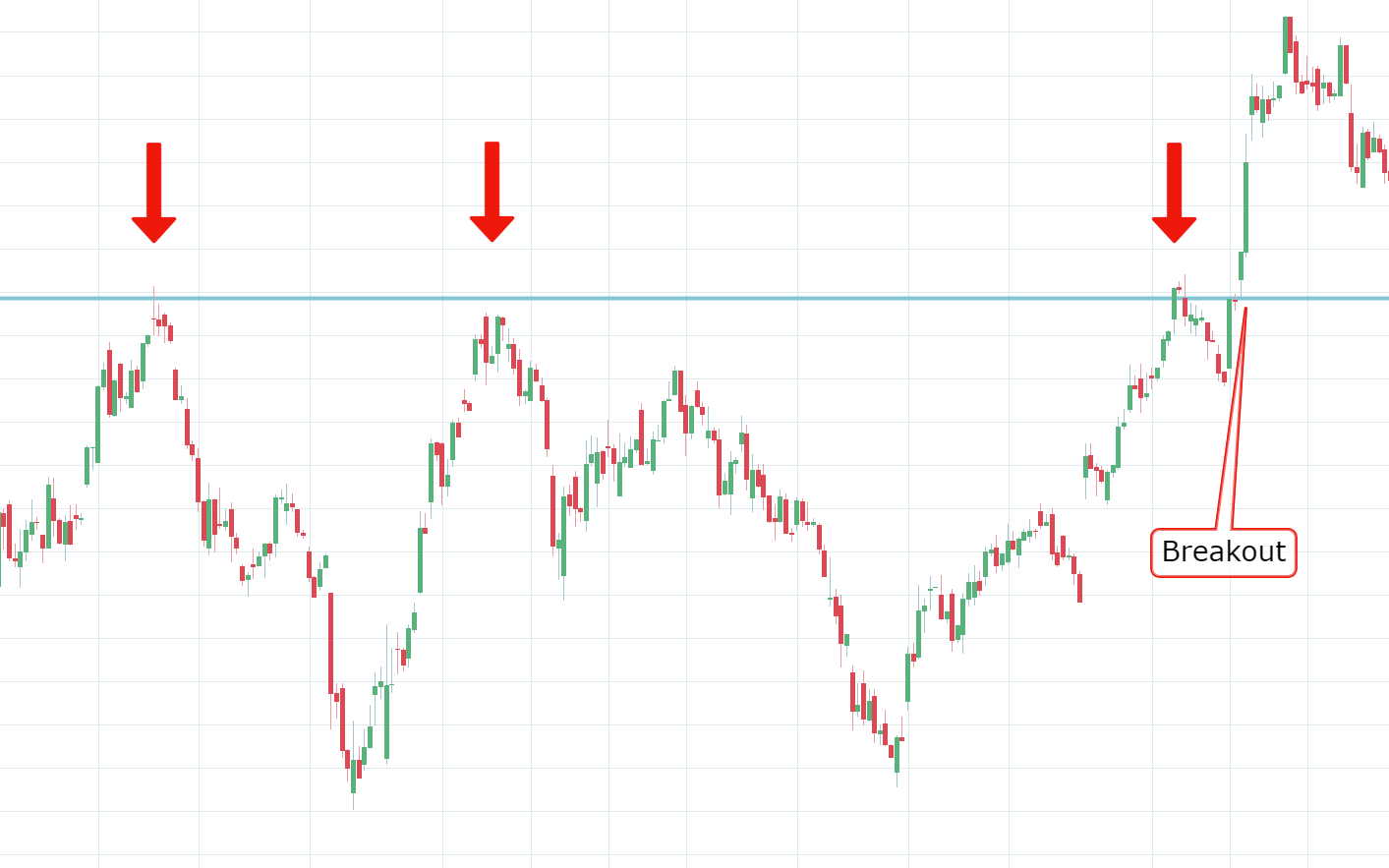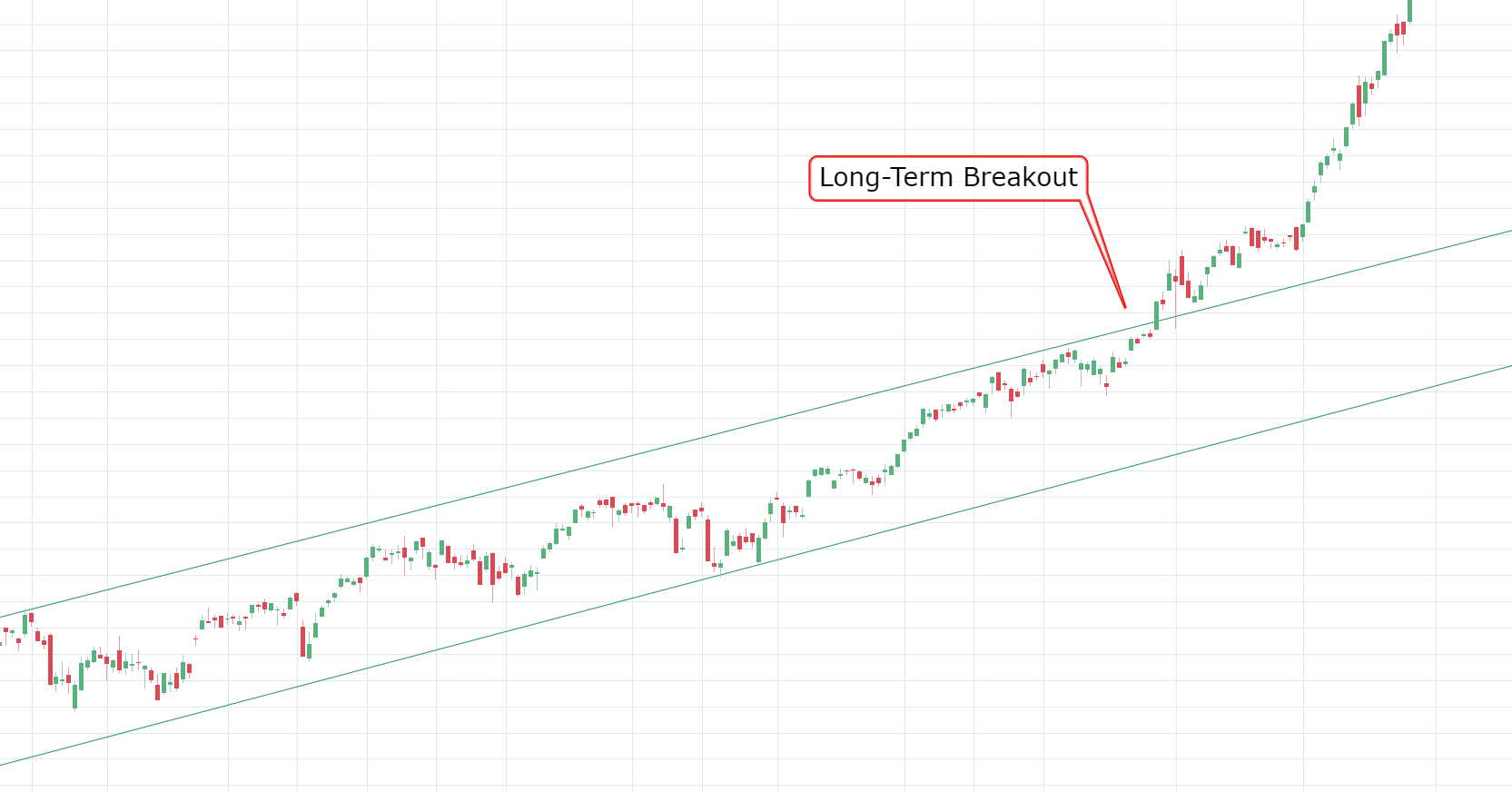 Breakdowns are more or less inverted breakouts. Instead of a break through the resistance level, a break through the support level occurs. Just like for breakouts, there are multiple variations of breakdowns as well. The small pullback and test of the old support level/new resistance level isn't uncommon here either. Nevertheless, stocks tend to fall faster than they rise. Therefore, a pullback isn't as common here as it is for breakouts. New lows are a typical feature of breakdowns.
Here is an example of a breakout: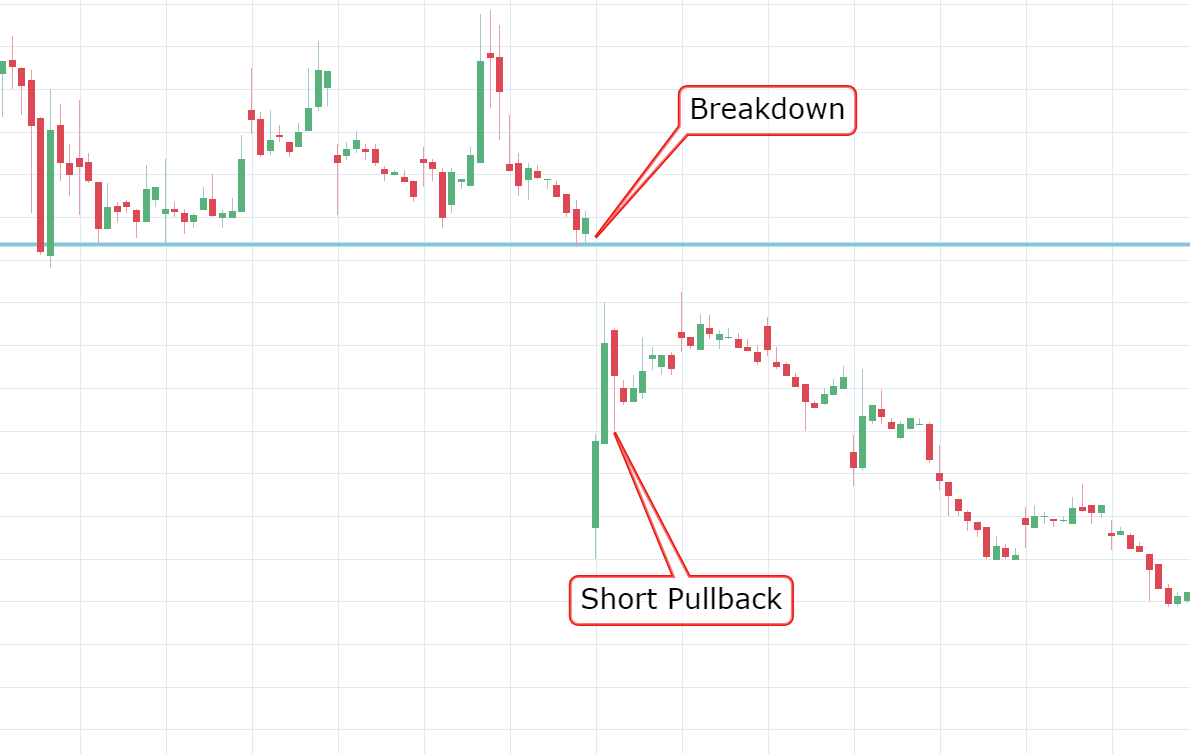 A Breakout Trading Strategy – What to Look Out For:
Breakouts are a pretty straightforward chart pattern. Therefore, it might seem like a pretty easy trading strategy. But there are a few things to look out for because not all breakouts are significant. Before diving into some things to look out for when trading breakouts, I just want to say that I am speaking from personal experience. There are countless other ways to trade and evaluate breakouts. My main experience with breakouts comes from lower-priced stocks ($1-$10). But most of this can also be applied to higher priced stocks. Generally speaking, these lower priced stocks can have much more momentum than higher priced stocks. Therefore, these are also better for breakouts as the percentage gains can be much higher. A lower priced stock can easily double in price after a good breakout. This isn's possible with higher priced stocks. But there are things to look out for when trading these lower-priced/penny stock breakouts. You can read my article on penny stocks, HERE.
Here are things to look out for:
Volume: Volume is one of the first things to look at when evaluating breakouts. Volume should always be supporting a breakout. It should ideally be ramping up to the breakout point and spike together with the stock price when breaking out. A breakout is much more unlikely to occur with low volume than with high volume. So always make sure to take a look at the volume when looking at breakouts (or breakdowns).
Time Frames: Always look at multiple time frames and charts. Don't only look at the one day or one minute chart, look at all sorts of charts. For example, if you see a breakout on the one-minute chart, make sure to check the 10 minute, daily… chart. This can often give context to the breakout. More often than not, a very short-term breakout (e.g. on one-minute chart) isn't really relevant anymore if you look at other time frames and see the bigger picture. A breakout is better if it spans across multiple time frames. In other words, a multi-month breakout is more significant than a multi-minute/hour or even day breakout. But a multi-year breakout will be more important than a multi-month breakout. Therefore, always look at multiple time frames and try to spot major resistance levels. Ideally, the stock shouldn't have been in a long-term downtrend as this will create a lot of overhead resistance. Try to go for major breakouts. The same goes for breakdowns (look at support levels).
Catalyst/Reason: Breakouts purely based on price action can be great profit opportunities. But breakouts backed up by actual good news are far more reliable and just better profit opportunities. Therefore, try to find breakouts where the security just has released some major news. For example, an earnings win can be a good positive catalyst and reason for a breakout. Some other examples are: new relevant product, partnership, big investor, contract win… On the other side breakdowns supported by bad news can lead to greater price falls.
The Run-up: Don't only look at the breakout itself. Look at the run-up leading up to it as well. This can tell you some things about the remaining momentum in the breakout. If the price spiked up and beyond the breakout level within a very short time frame, there may not be too much momentum left. A slower, longer-term run-up can be much more significant as the price will still have 'fuel left' to push up. Usually, these kinds of breakouts hold up longer than very quick, short-term breakout spikes. But this can really vary from security to security. To get an idea of how a security performs during this kind of price action, you may want to look at similar setups in the past and the price behavior during those times. This often isn't as important for breakdowns as prices tend to fall faster and easier than they rise.
Price: Furthermore, you should always take a look at the price itself. Due to human psychology, round numbers often play a bigger role than other 'random' numbers. Therefore, it isn't rare to see resistance (and support) levels at round numbers like $5, $10, $20, $50, $100 etc. Often many buy and sell orders (e.g. stop-losses) are flocked at these round numbers leading to bigger breakouts and breakdowns when these prices are breached.
(Bonus) Shares Short: This factor is mainly useful for lower-priced stocks as these have fewer shares outstanding. Most major financial websites like Yahoo Finance, Marketwatch and so on display statistics about different companies and assets including the number of shares short. Shares Short shows you how many of the outstanding shares are short. This should be compared to the overall number of shares outstanding or the float. 'Percentage Shares Short' automatically does this and shows you the percentage of the available shares that are short. If the percentage is high, a big move up/spike can be more likely due to so-called short squeezes. Short sellers borrow shares and sell these at the current stock price to open positions. However, to close their positions they will have to buy back their borrowed shares at the new market price. If a stock price moves up a lot and even breaks out, many short sellers will become scared and close their positions. This will lead to a lot of buying action and thus to a move up in the security's price. Therefore, a security with a lot of shares short can break out/spike higher than a stock with only little short interest. But as I said earlier, this tip is mainly relevant for lower-priced stocks/penny stock breakouts because higher-priced securities often have a large number of outstanding shares and only 'few' shares short (compared to the shares outstanding).
Some of these aspects can clearly be seen on the example breakout charts above.
A Breakout Trading Strategy – Entry and Risk Levels
Once again, there are endless different ways to trade breakouts and breakdowns. I will just present the breakout trading strategy that I have experience with.
First of all, let's discuss some possible entry points and corresponding risk levels:
The first and most obvious entry point is just when the breakout occurs, so when the price breaches through the resistance level and makes a new high. The risk for this entry point should be just under the breakout level as a drop below this level would confirm a failed breakout. The problem with this entry point is that prices often break resistance levels for a very short time frame to then continue back down again. Resistance levels aren't 100% precise. They often can vary a few points and therefore, it can be hard to pinpoint the exact breakout point. This method can lead to some fake breakouts. For breakdowns, all of this is the other way around. Instead of buying, you will sell/short the asset. The entry point would be right after a break of a major support level…
The next entry point would be right after the pullback and test of the previous resistance/new support level. Once again, the risk level to cut losses at would be right below the breakout level as a drop below it confirms that the breakout is over. A successful bounce off the former resistance level confirms the breakout as the level now acts as support. Therefore, fake breakouts aren't as common for this entry point. For breakdowns, the entry point would be at a bounce up to the original support/new resistance level.
Another entry point would be under the breakout level. This is a more advanced entry point though as you usually shouldn't be predicting breakouts. Therefore, this entry point shouldn't really be near the breakout level but rather near the support level. This is also the risk level. The advantage of this entry point is that even if the price fails to break out, you can end with a profit. Ideally, you should see some ramping action making you think the price will breakout. If it does not break out, take profits. Once again, all of this is the other way around for breakdowns.
A Breakout Trading Strategy – What to Avoid:
As you can see, there are some things to look out for when evaluating breakouts. In addition to that, there also are some things to avoid to trade breakouts profitable. I will discuss these in the following paragraphs:
First off, try to avoid 'chasing' the breakouts. With that, I mean entering the breakouts too late when most of the momentum already is over. Just like I discussed above, you should either enter breakouts right at or very close to the breakout level but not way above it. If you do this, you are 'chasing' the breakout and buying when most people already are selling. You can never know how far a breakout can go so don't enter too late. *
Besides entering too late, you can also enter too early. Don't try to predict breakouts. Never enter right below the breakout level, wait for the actual breakout to happen. Otherwise, the price might not breakout and drop down. If you want to enter below the breakout level, enter 'much' lower (like discussed in the third entry point). More often than not, stocks near breakout levels, don't break out. Instead, they continue the initial trend and stay below the resistance level. *
Furthermore, you shouldn't hold on to failing breakouts. If you are in a breakout trade and the price falls and stays below the breakout level, the breakout failed, so get out! The plan didn't work out, so there is no reason to keep staying in the position. Mostly, this also counts for the upside. Breakout traders want to profit from short-term momentum. Therefore, it is typical to exit the position after a big enough move up. This is not a long-term investment strategy. But opinions on this may vary. If the asset isn't setting all-time highs, you can look at the longer-term chart to find other resistance levels. These can act as new resistance and as take profit targets. *
* All of this is the other way around for breakdowns.
Conclusion
Breakouts (and breakdowns) are one of the most common technical-based trading strategies. This doesn't mean that you should trade every breakout/breakdown that you can find. There are multiple things to look out for when trading and evaluating breakouts/breakdowns. Therefore, there are better and worse breakouts/breakdowns.
Generally, it is a very good idea to focus on the best breakout/breakdowns setups. Wait for the best and most convincing opportunities/setups!
Furthermore, always evaluate your risk, profit… before risking any money. You should always have a plan when trading. This does not only count for breakouts and breakdowns.
(In my opinion, breakouts are better trading strategies than breakdowns. But this can depend on the trader's personal taste.)
Last but not least, I want to re-emphasize that I mainly have experience with penny stock breakouts as these stocks can move much further than higher-priced stocks. But most of the things discussed in this article are still very relevant for higher-priced stocks