Even though it is not necessary to exit trades early to be profitable, it really can help to be even more profitable. Closing option positions, which reach 50% or another percentage of the max profit really is a good idea. Most traders aren't aware of this because it seems like a bad idea. Most traders think closing out a position at half the profit decrease the overall profitability of a strategy because you are getting less money. Even though this might seem to be the case, it really is not. In this article, I will list four big reasons why closing trades early at a smaller profit actually increases the profitability and is a very good idea.
1. Guaranteed Winners
If you exit a trade early at less than max profit, it will be a guaranteed win. If the position already is let's say at 50% of max profit, it is a profitable trade if you close it. This means that you already made it. If you do not close it early, it is not a guaranteed profit. The position can still turn around and become a losing position. Often it is not worth the risk to hold a trade and hope to reach max profit. This means closing trades early will actually increase your win rate, because you close trades as soon as they reach your profit target and don't let them turn into losses.
2. More Trades
If you close positions early you will be able to open new trades sooner. This means that you allocate your money for a shorter period of time per every trade. So you'll be able to enter more trades. High probability option premium selling is all about consistency and making as many trades as possible. This is exactly what closing positions early will enable. You will be able to take the profit earlier in an expiration cycle and open new ones faster, thus trading more in total.
If you choose to exit trades early you will most definitely be assigned stock much less. The less time an option has until expiration, the more likely it is to be exercised. Around 80% of options are exercised in the last week of an expiration cycle. This is because there only is little extrinsic time value left in this last week. Therefore it won't be more profitable to close out an option position and then buy the stock.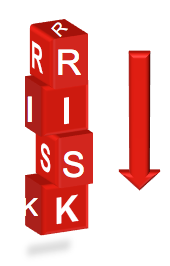 Closing option positions early will often avoid these last days/weeks of an expiration cycle and thus mitigate the risk of getting assigned. This, of course, is a very good thing, especially for traders with smaller accounts, which may have trouble handling an assignment.
4. Gamma Risk
Just like you learned in this article the option Greek Gamma measures the rate of change of Delta for every $1 move in the underlying. Just like the price of your option or underlying, Gamma also changes all the time. Gamma increases the closer you get to expiration. What this means is that when you get closer to expiration the value of your option contract becomes much more sensitive to price changes in the underlying. Delta may change much faster than it did earlier in the expiration cycle. This means your probability of losing/winning may also be more volatile. For every $1 move in the underlying price, the value of the option contract may increase/decrease much more than earlier in the expiration cycle. Gamma is negative for short positions and positive for long positions. This means that for every $1 move in the underlying a short positions loses more and more of its value. Long positions, on the other hand, lose less and less for every move. Gamma risk or directional risk is something an option trader should definitely be aware of, especially in the last weeks of an expiration cycle.
Summed up: the closer you get to expiration, the more money you can lose from a small move in the underlying because Gamma increases the closer you get to expiration. Closer to expiration (with a high Gamma) you will lose much more from a few dollar change in the underlying price than earlier in the expiration cycle. This is also the reason why it is not necessarily very good to sell short-term options, even though time decay is highest in the last week before expiration.
Conclusion
As you clearly can see exiting positions early, before you reach max profit has many benefits. Doing this will increase your win rate and your overall profit long term. Additionally, it will mitigate different kinds of risk like the risk of getting assigned and gamma risk. Even though you don't have to do it to be profitable, I would still highly recommend to do it. Exiting trades early won't require a lot of effort, but it will improve your option trading a lot. I advise to close out positions at 50% of the maximum profit. If you want you still can go higher, but many studies have shown that 50% of the max gain is a very ideal point to exit. To consistently exit at 50% it would help to set alerts when entering into new positions. You also could send out a closing order at 50% of the max profit as soon as you enter. As soon as the option reaches 50% of the max gain, the order should get filled and automatically close the position.
I really hope that you are enjoying this article and the intermediate options course. If you are enjoying it, feel free to share what we are doing here, so others can get to know. If you have any questions left, don't hesitate to ask them right in the comment section below.
---
This Article is part of the Advanced Option Trading Course. If you are reading the article as a part of the course, you can continue to the next lesson: HERE