There are countless different trading systems in existence. Day trading, swing trading and investing are the three main categories of different trading styles. All trading systems fall in one of these categories. In the following article, you won't only learn what a swing trade is. You will also learn what exactly day trading and investing are and which of these trading styles is best suited for you.
Not every trading style is ideal for everyone. That's why it is important to find a style that fits you. Not me, not your friends, not your parents, but you! This article will help you with that decision.
---
What is a Day Trader:
A day trader is a trader that opens and closes his trades within a single trading day. Day traders only hold their positions for seconds to a few hours. These traders try to profit from intra-day momentum.
Most day traders base most of their trading decisions on price action and technical analysis. This is the case because fundamental factors usually don't influence prices in the very short-term.
Day trading can be done with almost any asset class (e.g. stocks, penny stocks, Forex, futures etc.). However, it is important that you are very familiar with the asset class before you choose to day trade with it.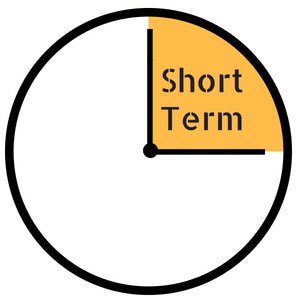 Day Trading Time Frame: Very Short-Term
Here is an example of a day trade:
10:06 am: Buy 1000 shares of XYZ
10:33 am: Sell 1000 shares of XYZ
Who is Day Trading for:
Even though most day trades only are held for a few minutes, day trading does not take little time. The trading itself may be fast, but the preparation often takes hours. Usually, day traders monitor the markets for the entire day and only trade if they spot an ideal setup.
So day trading isn't for people that only have very limited time.
Furthermore, day trading is very fast-paced and therefore, it can be quite stressful. Day traders often have to make decisions within seconds. This is definitely not something for everyone. To be able to make the right decisions as a day trader, it is very important that you know what you are doing.
Therefore, I don't recommend day trading to complete beginner traders. Day trading definitely requires training and the right education.
A lot of day traders focus on volatile stocks and others use leverage to maximize their gains (especially Forex traders). Trading in these stocks and/or using leverage requires very good risk management skills which is another thing that most beginner traders don't have.
Generally, day trading isn't an easy trading style and it is certainly not something that can be done without the correct education.
Requirements for a Day Trader:
Enough time to monitor the markets
The ability to act rationally in stressful situations
Good day trading education
Good risk management skills
Financial regulators like FINRA actually find day trading riskier than all other trading styles. That is also why they created the PDT Rule. The PDT Rule prohibits people with an account size of under $25 000 to perform more than three day-trades in a rolling five day business period. If you are interested, you can read my article on how to avoid the PDT Rule.
Next up, you will learn what a swing trade is.
---
Video Breakdown:
In the following video, you won't only learn the differences between swing trading vs day trading vs investing. You will also learn which of these trading styles is ideal for you and why. So make sure to check out the video!
---
What is a Swing Trader:
A swing trader is a trader that holds his trades for a few days to weeks. Swing traders usually use technical analysis and news to form trading decisions. Fundamental factors of a company don't tend to be an important factor that swing traders consider.
Swing traders normally try to catch bigger moves than day traders and that's why they give their trades more time.
Stocks and options are two very popular asset types for swing trading. However, it is also possible to swing trade in other asset classes.
Swing Trading Time Frame: Short to Medium-Term
Here is an example of a swing trade:
9th July 2018: Buy 5000 shares of ABC
13th July 2018: Sell 5000 shares of ABC
Who is Swing Trading for:
Swing trades require much less monitoring than day trades. Therefore, swing traders aren't required to stay in front of the markets as much as day traders. Some swing trading strategies even allow you to check your positions only once a day. By using trade alerts and automated orders, you could theoretically check swing trades even less often.
The time that it takes to set up a good swing trading position totally depends on the trading strategy. Nevertheless, swing trading usually does require much less time than day trading.
Swing traders have to have a good market awareness because their positions are held for days to weeks. The swing trader has to be aware of important upcoming events that could influence his positions. For instance, if a stock has an upcoming earnings announcement, the swing trader that is looking to trade that stock should be aware of this. Otherwise, important events can seriously mess up trades.
It is also important to have a clear trading plan when swing trading. You should never put on a trade and then don't know what to do next. This isn't only relevant for swing traders, but for all traders. Having a clear, thought-out trading plan is key to success in trading.
A swing trader should also be familiar with the overall condition of the asset that he is trading. If a swing trader is planning on trading in a stock that has been steadily down-trending for the past months, he should take this into consideration as this would decrease the probability of a huge bull move.
Finding good swing trade setups can often require some good analysis of the asset that someone is seeking to swing trade. A swing trader should definitely be aware of past news, upcoming events, the condition of the asset, key technical levels and more.
Generally speaking, swing trading requires a good swing trading strategy. If one wants to swing trade based on technical analysis, he should be very good at it. Just like other forms of trading, swing trading also requires a lot of good education.
Requirements for a Swing Trader:
Market awareness
Good swing trading strategy
Good swing trading education
Good analytical skills
Swing trading is probably one of the most beginner friendly trading forms. With that being said, it is still extremely important to educate yourself before risking any hard earned money.
---
What is Investing: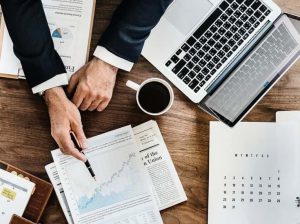 Investing is the act of allocating capital in hope of achieving a profit in the future. In this article, I only want to talk about investing in the stock market.
An investor usually buys an asset (often stocks) and holds on to that position for years. Investors aren't interested in intraday or other shorter-term price movements. They invest in an asset because they believe in it and think that its price will appreciate over the long run. That is also why investing is often referred to as value investing.
Another typical reason for investments is dividends. Often investors allocate a great deal of their money to certain stocks to collect dividends. I recommend checking out my guide to how dividend stocks work if you want to learn more about dividends.
Different than day traders and swing traders, investors normally only buy assets. It is quite rare to see investors short assets for years at a time.
The most common way of investing is investing in stocks or ETFs. You can't really invest in Forex or similar asset classes. But it is possible to invest in other things than stocks. You could even invest in some options as some very long-term options (LEAPS) don't expire for several years. Nevertheless, you can't hold these options for decades which would be able with other investments.
Many investors don't only invest in one or a few individual assets. Instead, they try to build a diversified portfolio with a wide variety of different investments.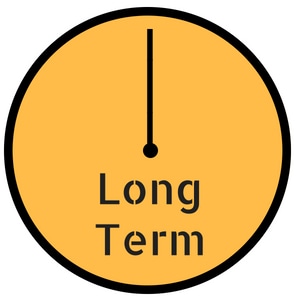 Investing Time Frame: Long-Term
Here is an example investment:
18th June 2015: Buy 10 000 shares of XYZ
20th November 2023: Sell 10 000 shares of XYZ
Who is Investing for:
Investing is very different from trading. It is very important to understand that. Investors buy assets based on fundamental factors and their belief in that asset. This is a different approach than traders have.
Investing requires patience as investments are often held for many years. Therefore, you should have a long-term approach to investing. You shouldn't expect very quick returns. Often investments don't appreciate in value right after they are put on. So often investors have to hold through long periods of no gains or even paper losses. Generally, investments take time to potentially work out. Investments don't require you to monitor the markets very actively. It is very possible to only look at your investments once a week or even less often if you feel comfortable doing so.
Besides patience, you should also have some good analytical skills when investing. Many investors analyze the fundamentals of companies and doing this isn't always easy. If you are planning on investing in a company, you should be very familiar with its business, leadership, operations and much more.
In addition to that, investors should also be familiar with the condition of the overall market. Most stocks follow the overall market and therefore, it is very important to know what is going on in the overall market. Investors should have some economic understanding.
Furthermore, most investment strategies require more capital than other forms of trading. If you only have $2000 to invest with, your possibilities will be limited.
Requirements for an Investor:
Patience
A long-term approach
Analytical skills
Overall market/Economic awareness
Capital
---
Conclusion – Swing Trading vs Day Trading vs Investing:
Day trading, swing trading and investing are all legitimate forms of interacting with the markets. No trading form is necessarily better than the other. It just comes down to personal preferences like your trading style, time, capital etc.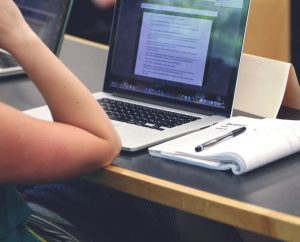 But no matter what trading style you decide to go for, it is essential to educate yourself before risking any money! Each trading style requires its own education. Day trading requires very different education and preparation than swing trading or investing.
None of these trading forms are good for complete beginners. If you are completely new to the markets and have no prior experience, you should NOT begin to trade right away. You should educate yourself first!
It is totally possible to trade in different ways simultaneously. For instance, you can easily invest in one stock and day trade other stocks at the same time. This will just require more capital than just doing one of the two. But note, if you aren't familiar with any of these trading styles, you should learn one first before getting into the next one. So rather than trying to get into all of these trading forms at once, try to focus on the one that sounds best for you.
The goal of this article was to give you an introduction to these three different ways of trading. There are countless different strategies for each of these trading forms. Obviously, not all of these strategies will match all of the requirements mentioned in this article. There will be some variations. But generally speaking, the requirements stated in this article are fairly accurate for the different trading styles.
I truly hope this article could help you out. Hopefully, you now know the differences between swing trading vs day trading vs investing. Potentially, you now even know which of these trading styles you want to learn more about. Thanks for reading.
If you think someone else could find value in this article, make sure to share it with a like-minded friend.